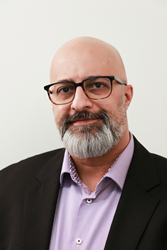 At Rangle, we don't just deliver solutions, we prepare clients for the ever-changing road ahead.
(PRWEB) August 21, 2018
Rangle, one of the fastest growing digital transformation consultancies, today announced Kamal Syan as its Senior Vice President of Delivery. Syan, who previously worked at agencies Normative, Critical Mass and Klick Health, will be responsible for further expanding the company's already impressive reputation for delivering complex, creative programs at scale.
"Our clients want to take advantage of transformative strategies and technologies to lead their industry," said Nick Van Weerdenburg, Rangle's Chief Executive Officer. "They look to Rangle to ensure that from ideation to implementation the process runs smoothly. Kamal has the experience we need to ensure we are lock-step with our clients and can deliver on their vision."
With extensive agency experience, Syan worked for premier agencies serving pharmaceutical, automotive and financial services clients. Most recently he was the General Manager at Normative. Previous to this, Syan was the VP, Managing Director at Critical Mass, responsible for delivery to marquee brands like Infiniti, Citi Bank, Citi Cards, and Mercedes Benz. He then moved to Klick Health, where, as VP, Group Account Director, he led teams serving Salix Pharmaceuticals, Baxter International and Lundbeck US.
"Rangle offers clients the perfect blend of agency-like dynamism, creativity and flexibility with the technical excellence of its design and development consultancy," said Syan. "Clients can look forward to a creative partner, strategic programming, and products that deliver never-before-seen results to ensure the health of their business in the future. At Rangle, we don't just deliver solutions, we prepare clients for the ever-changing road ahead."
Those interested in joining Syan at Rangle can submit their resume via https://rangle.io/careers/.
About Rangle
Rangle is a digital transformation consultancy that plans, designs and builds innovative applications for clients like Aldo, Uniqlo, Raymond James, DriveTime, ThyssenKrupp and Sprout. The company's unique approach to partnership-based development ensures clients can move quickly from ideation to implementation. rangle.io