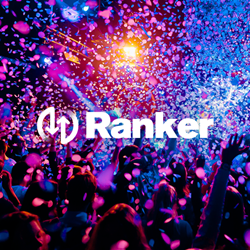 For the last 10 years we've been known as the web's source to read definitive rankings, but many people also love to consume lists via video
LOS ANGELES (PRWEB) May 16, 2019
Ranker, known as the world's leading destination for fan-powered rankings on just about everything, has announced the official launch of its OTT app showcasing Ranker's trending, creepy, and just plain weird video content. The free app is available on Roku, Amazon Fire TV, Apple TV, and Android TV devices.
Ranker's mission is to catalog and cover the world's opinions with voter-curated rankings and original content, on thousands of topics, from current events, to pop culture — from the weird and scary, to the incredibly niche. With Ranker's ability to keep a finger on the pulse of the people, the app delivers unique and entertaining videos that surprise and educate.
"For the last 10 years we've been known as the web's source to read definitive rankings, but many people also love to consume lists via video" said Clark Benson, CEO and Founder of Ranker. "The Ranker OTT app is key to reaching additional audiences in new ways."
The Ranker app features thought-provoking video channels for everyone:

Rankworthy: a deep dive into everything from fan theories, nostalgia, and rankings of nearly any topic you can think of, ranked by real fans on Ranker.com.
Crowd Wisdom: hit pop-culture video series where celebrities rank their top 5's, then compare their rankings to the wisdom of the crowd on Ranker.
Deadtime Stories: a fan-submitted, animated horror story series on the supernatural, creepy, and macabre hosted by DeadHead, a friendly (and frightening) skeleton.
Weird History: for the extreme, the unexpected, the untold, and the flat-out weird parts of history you never learned in school.
Weirdly Interesting: interesting and surprising facts about human behavior, health, science and self-awareness.
"We're excited about getting this video content into people's homes," said Bill Jeffries, Chief Strategy Officer. "Over the last year we've bolstered our video capabilities with an in-house Ranker studio, contributing to increased production and a successful series on SnapChat Discover."
Click to download the Ranker App.
About Ranker
Ranker, a Quantcast top 30 publisher, is the leader in opinion-based, fan-powered rankings on just about everything. We put the power in the hands of our audience to answer debates on topics including pop culture, sports, politics, brands, and lifestyle. Using Ranker's unique technology, those lists become definitive rankings based on the "wisdom of the crowd." Ranker attracts more than 35 million monthly unique visitors worldwide and is based in Los Angeles.
Ranker's lists and opinion data are regularly cited in the media, including The Wall Street Journal, Business Insider, The Hollywood Reporter, and USA Today, among many others. The company is venture-backed by Draper Associates, Rincon Ventures, Wavemaker Ventures, Lowercase Capital, Bullpen Capital, and various angels.