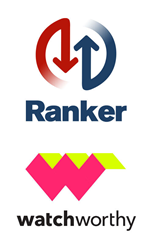 "Born of Ranker's voting platform and fueled by Ranker Insights, our TV recommendation app Watchworthy pushes the envelope on what our first-party data can accomplish, further proving the tenacity of the streaming wars and the competitive innovation of our dream-team data scientists." -Clark Benson
LOS ANGELES (PRWEB) March 09, 2021
Ranker, known as the world's leading publisher for fan-powered rankings on just about everything with over one billion votes, has been named No. 5 on Fast Company's prestigious annual list of the World's Most Innovative Companies for 2021 in Data Science.
The list honors the businesses that have not only found a way to be resilient in the past year, but also turned those challenges into impact-making processes. These companies did more than survive, they thrived—making an impact on their industries and culture as a whole. This year's MIC list features 463 businesses from 29 countries.
"It's a great honor to be ranked in the top 5 in data science among world-wide businesses across so many industries that have endured a difficult landscape during a pandemic," said Clark Benson, CEO and founder at Ranker. "Born of Ranker's voting platform and fueled by Ranker Insights, our TV recommendation app Watchworthy pushes the envelope on what our first-party data can accomplish, further proving the tenacity of the streaming wars and the competitive innovation of our dream-team data scientists."
The question most people are asking while practicing social distancing and staying at home more is what to watch next on hundreds of streaming services. The average person will scan through their streaming service menus for an average of 9 minutes - this is what Watchworthy specifically addresses - every streamer's very own personal TV recommendation app to help solve the paradox of choice in finding the next binge without having to navigate cumbersome, wall-gardened libraries.
Launched in March of 2020, Watchworthy is uniquely powered by Ranker Insights, a proprietary machine learning platform applying first-party data amassed over a decade from one billion votes on Ranker - making it the only statistically relevant, crowd-sourced recommendation app using psychographic correlation data ("if you like X, you'll also like Y, Z"). Critical to building the Watchworthy algorithm are one million of those Ranker votes from high-intent TV fans voting on 13,000 TV shows, thus creating a unique panel system for the recommendation engine.
"We're humbled to be recognized by our continued innovations in data science," said David Yon, General Manager of Ranker Insights. "Thanks to the millions of monthly votes on Ranker we've created two forms of intellectual property - the lists and rankings themselves, and the first-party voting data on the Ranker Insights platform, which has over 162 million statistically significant correlations. So, instead of looking to antiquated methods and contextually siloed opinions, Ranker Insights offers a deeper and truer sentiment using far-reaching, impactful data science. Watchworthy is just one application of what Ranker's innovative IP can accomplish."
Fast Company's editors and writers sought out the most groundbreaking businesses across the globe and industries. They also judged nominations received through their application process.
The World's Most Innovative Companies is Fast Company's signature franchise and one of its most highly anticipated editorial efforts of the year. It provides both a snapshot and a road map for the future of innovation across the most dynamic sectors of the economy.
"In a year of unprecedented challenges, the companies on this list exhibit fearlessness, ingenuity, and creativity in the face of crisis," said Fast Company Deputy Editor David Lidsky, who oversaw the issue with Senior Editor Amy Farley.
To coincide with the issue launch, Fast Company will host its first-ever Most Innovative Companies Summit on March 9 and 10. This virtual, multi-day summit will celebrate the Most Innovative Companies in business, provide an early look at major business trends, and offer the inspiration and practical insights on what it takes to innovate in 2021.
Fast Company's Most Innovative Companies issue (March/April 2021) is now available online here, as well as in app form via iTunes and on newsstands beginning March 16, 2021. The hashtag is #FCMostInnovative.
ABOUT RANKER
Ranker, attracting more than 30 million monthly unique visitors worldwide, is the leader in fan-powered rankings on just about everything. Whatever the topic - TV, movies, video games, sports, brands, food, lifestyle - Ranker puts the vote into the hands of millions rather than a few critics to answer the questions we are most passionate about. Over 1 billion votes now power Ranker Insights, a treasure trove of psychographic correlation data that delivers personalized consumer recommendations ("if you like X, you'll also like Y, Z"), and also audience insights to marketers, studios, and platforms seeking a deeper understanding of consumer tastes and preferences. Launched in 2020 and powered by Ranker Insights, Watchworthy is the only statistically relevant, crowd-sourced TV recommendation app available to consumers. Ranker is listed on 2020's Inc 5000 and Inc. 5000: California Series, Deloitte's 2019 Technology Fast 500 featuring the fastest growing companies in North America and Built In LA's Top 50 Mid-Sized Companies To Work For in 2020 & 2021, and No. 5 on Fast Company's World's Most Innovative Companies for 2021. Headquartered in Los Angeles with over 115 employees, Ranker also has an office in NYC.
ABOUT FAST COMPANY
Fast Company is the only media brand fully dedicated to the vital intersection of business, innovation, and design, engaging the most influential leaders, companies, and thinkers on the future of business. The editor-in-chief is Stephanie Mehta. Headquartered in New York City, Fast Company is published by Mansueto Ventures LLC, along with our sister publication Inc., and can be found online at http://www.fastcompany.com.