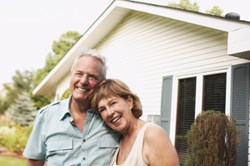 "This is one of the best programs available for those that qualify."
Salt Lake City, UT (PRWEB) September 26, 2013
When the housing market went bust, it took much of the reverse mortgage market along with it. However, with rising home values the reverse mortgage is about to make a remarkable comeback, according to RANLife Home Loans.
"The problem right now is that most of the homeowners who qualify for this program don't know about it or how it works," stated Ken Smith, one of RANLife's loan officers. The Federal Housing Administration's (FHA) reverse mortgage program known as the Home Equity Conversion Mortgage (HECM) is a program which allows homeowners to withdraw some of the equity in their home with no required payments as long as they are alive.
The program is for people age 62 or older and allows them to keep living in their home during retirement while also benefiting from the equity in their homes. Currently in the U.S. there are over 25 million households with at least one person age 62 or older. "Hopefully more senior citizens pick up on this program," stated Smith, "I mean, who wouldn't want to live rent free?"
The difference between a traditional home equity loan or second loan and a reverse mortgage is that borrowers with a standard home equity loan have to qualify for the loan as well as make monthly payments on the principal and interest. A reverse mortgage is different because essentially it pays you, with no monthly principal and interest payments required. "This is one of the best mortgage options for those that qualify," stated Smith.
The most obvious requirement to be able to obtain the reverse mortgage loan is home equity. "The homeowner either needs to own the home outright or have a low enough mortgage balance that it can be paid off at closing with proceeds from the reverse loan." It's also required that the home is a single family or 2-4 unit home with one unit occupied by the borrower. HUD-approved condominiums and manufactured homes that meet FHA requirements are also eligible.
"The big question I always get asked first is how much money can I get from my home?" The amount a homeowner may borrow depends on the age, current interest rate, and appraised value of the home. Many reverse mortgage calculators can provide those interested with an estimate of the amount of funds they can borrow.
As far as mortgage payments go, there are five payment plans to choose from on a reverse mortgage; Tenure, Term, Line of Credit, Modified Tenure, and Modified Term. "Make sure you check with your loan officer about the best payment option for you," commented Ken.
RANLife Home Loans is an FHA approved lender and unlike other lenders, they can service reverse mortgages without any extra hidden fees. "One of our licensed loan officers can provide you free financial advice on reverse mortgages and the best option for you."
HECM reverse mortgages can be a great option for those looking to improve their financial security and stabilize their future. It's important to understand exactly how they work and what requirements are involved with the loan. Any questions about the program or benefits can be directed to one of RANLife's representatives at 800.416.4152. or you can apply online by clicking here.
For the original article on HUD's website, please click here.
About RANLife Home Loans
At RANLife Home Loans our experienced mortgage professionals view a refinance, or purchase of a home loan, as more than just a onetime transaction. We believe it is a start of a long term relationship that can save the homeowner thousands of dollars over the life of their loan.
NMLS# 3151
Follow RANLife Home Loans on Facebook at http://www.facebook.com/ranlifehomeloans.
And stay up to date on the Home Lending Life blog at blog.ranlife.com.