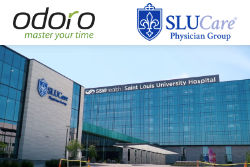 "We are excited to provide our patients with a safe, efficient, paperless registration as part of our new modern patient experience...he high adoption rates speak for themselves. The solution was well received by our practice staff as well as our patient community." Matt Zimmie, M.D., MSHI
NEW YORK (PRWEB) November 17, 2020
Odoro, a leader in digital patient access solutions, today announced the results of the adoption of their digital registration platform by SLUCare Physician Group, the academic medical practice of Saint Louis University School of Medicine. The implementation of the Odoro registration platform was introduced as part of SLUCare's efforts to expand digital patient access. In the near future, the platform will also include the ability to search for providers and schedule appointments online.
The SLUCare practice recognized the value of the stress-free, quick, paperless experience for patients provided by the Odoro solution even before the pandemic started. The platform helped the practice adapt to the "new normal" once the pandemic began, as patient digital registration became essential in accommodating social distancing and complemented the process of virtual visits.
SLUCare patients quickly adopted the new technology, which is used by providers in internal and family medicine, ophthalmology, OBGYN, orthopedics, hematology, dermatology, sports medicine and cosmetic medicine. Just ten days after going live, nearly 90% of patients used Odoro to sign in for their visits, on their laptops, tablets or cell phones. Today, over 70% of patients complete their entire pre-visit process digitally, avoiding face-to-face interactions before seeing a doctor.
The benefits to SLUCare patients and physicians for physical visits include reduced waiting times and increased safety for patients and staff. For tele-health visits with no physical front desk, Odoro's online platform becomes essential in streamlining the practice's financial and compliance processes.
"We are excited to provide our patients with a safe, efficient, paperless registration as part of our new modern patient experience," said Matt Zimmie, M.D., MSHI, SLUCare assistant vice president and chief medical information officer. "The high adoption rates speak for themselves. The solution was well received by our practice staff as well as our patient community."
The new workflow is simple: prior to an appointment, whether in office or virtual, patients are reminded to register online. COVID-19 pre-screening, insurance data, payment processing and consent forms are all completed digitally, ensuring a contactless experience. Data is automatically updated on SLUCare's practice management system, minimizing documentation for staff. When arriving at the clinic, patients use onsite kiosks or their personal devices to check-in and complete any remaining requirements or payment.
"We are proud to support SLUCare's vision of providing a state-of-the-art patient experience by digitizing their patient access. Our hand-in-hand collaboration with Glenda Jackson, Director Revenue Cycle Technology, and her professional team, was a model of successful implementation. We celebrate their tireless efforts to support their medical teams during these challenging times, making this vision a reality," said Dikla Ranen, Co-founder and COO of Odoro "SLUCare today represents where all practices will need to be in the near future, as all physicians will require what I call a 'virtual front desk.' Practices need effective ways to collect payments and get consent forms for virtual visits. When patients step into the office, it will then be a continuance of that same safe, quick and seamless experience."
SLUCare and Odoro were introduced through the St. Louis-based organization, GlobalSTL, an initiative of BioSTL that recruits high-growth companies from around the world to enrich and grow St. Louis's innovation economy.
About Odoro, A Clearwave Company
Odoro transforms the patient experience for health systems and practices, with an integrated platform of digital solutions for online scheduling, self-registration and personalized patient communications. Odoro's technology and advanced algorithms efficiently and accurately match patients, providers and locations, addressing provider and health system needs. With adoption rates of up to 90%, Odoro streamlines workflows, reduces inefficiencies and generates high levels of satisfaction and loyalty among patients.
To learn more, please visit: http://www.odoro.com
About SLUCare
SLUCare Physician Group is the academic medical practice of Saint Louis University School of Medicine, with more than 600 health care providers and 1,200 staff members in hospitals and medical offices throughout the St. Louis region. SLUCare physicians are among the most highly trained in their fields - more than 50 specialties in all - and are national and international experts, renowned for research and innovations in medicine. For more information, please visit http://slucare.edu/
About Clearwave
Clearwave is a premier digital check-in and eligibility-verification solution provider for the healthcare industry. Since 2004, the company has helped its customers improve the patient experience via a comprehensive technology solution that combines Clearwave's patient self check-in solutions and eligibility-verification engine to improve insurance verification workflows, increase revenue collections and improve data access. Clearwave is headquartered in Atlanta, Georgia. For more information, visit http://www.clearwaveinc.com.