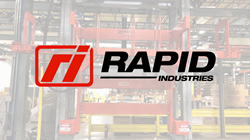 "All equipment is custom built and tested in our Louisville facility," said Thomas Kolder, VP of Sales & Engineering at Rapid Industries, Inc. "Our experience allows us to meet your needs whether it be complete planning, component parts or a question regarding a system."
LOUISVILLE, Ky. (PRWEB) December 15, 2018
Rapid Industries, Inc. has been a force in the conveyor industry for over fifty years. With unmatched customer service and a team of experienced engineers, the Louisville-based company has been a world leader in conveyor systems, inspections, turn-key solutions, automated equipment, and structural fabrications.
"Unparalleled customer service" has been the cornerstone of Rapid Industries, Inc. since its inception in 1967. Masters in material handling solutions, the company credits their success to their strong team environment and unwavering high moral standards, generating profit through the leanest of manufacturing processes and total lifecycle service support.
Mayor Greg Fischer visited Rapid Industries to kickoff National Manufacturers Month in October and presented John Thornton President & CEO with a plaque commemorating the occasion. Rapid Industries is celebrating its 50th year this year, as a premier manufacturing company of overhead conveyor systems. Their skillset includes welding, machining, rolling, and bending steel products to make the best overhead conveyance systems around. This Louisville Based company manufacturers products for multiple industries including Automotive and Appliance. These conveyor systems are used in local plants such as GE Appliance, and the Ford Truck Plant.
"All equipment is custom built and tested in our Louisville facility," said Thomas Kolder, Vice President of Sales & Engineering at Rapid Industries, Inc. "As we maintain our status as an industry leader, our experience allows us to meet your needs whether it be complete planning, component parts or a question regarding a system."
Rapid Industries maintains a goal of providing the best service in the industry, and that is reflected in their online presence. Rapid wanted their website to mirror their status as a top technological innovator. While maintaining an established logo and branding, they have refreshed their website with a total structural overhaul.
The new site showcases the company's ability to produce custom solutions on a large scale, both nationally and internationally. From Kentucky to California, from Brazil to India and beyond, Rapid Industries is an international company. Business is no longer local. The globalization of the world and its economies have opened businesses up to international opportunities. The quality and dependability of their conveyor systems and components stand up against any cultural standard and requirement.
For more information about Rapid Industries, visit their website at http://www.rapidindustries.com.