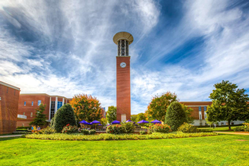 I'm creating nodes of institutional research across campus. All decision-makers are involved, and we're yielding key insights in real time.
CONWAY, N.H. (PRWEB) January 21, 2020
Rapid Insight, Inc., a leading provider of easy-to-use predictive analytics and data blending software for higher education, will host a webinar focused on Institutional Research. The webinar, taking place on Tuesday, January 21 (2 PM ET/11 AM PT), will be led by Matt Rehbein, Director of Institutional Research at Lipscomb University on the topic of how he transformed and multiplied the function of institutional research (IR) on his campus to meet the growing challenges of student enrollment and retention.
As universities grapple with these challenges, it's no longer a question that data is critical to developing a smarter strategy. But many are unsure how much to invest in their data analytics infrastructure and who on campus should be part of data-informed conversations.
Rehbein will describe his experience as a 1-person IR department that goes far beyond simply fulfilling the data needs of multiple departments, seeking instead to engage and empower as many campus stakeholders as possible in data exploration.
"The keyword is function," says Rehbein, "changing IR from just a transactional office to IR as building and strengthening functional capabilities for business intelligence across the organization."
Central to Rehbein's mission to transform the IR function has been his application of Rapid Insight's self-service analytics platform, Veera, equipping him with the tools for integrating data from multiple systems, automated predictive modeling, and team-wide reporting.
Integrating data from multiple locations and sources with data-prep tool Veera Construct has allowed Rehbein to confidently output clean data sets for deeper analysis and reporting. Rapid Insight's cloud-based reporting tool, Veera Bridge, enables multiple users to easily access, share, and collaborate on datasets and analyses. Coaching his colleagues on the best use of this reporting tool, Rehbein says, "I'm actually creating nodes of institutional research across campus. All decision-makers are involved, and we're yielding key insights in real time."
The January 21 webinar will explore how Rehbein's work is impacting the bottom line—and the source of his passion: student retention and success. "There's nothing I love more than retention," he says, "seeing students returning each semester to continue the transformative experience that I and so many others have had."
To learn more about this webinar and to register, visit Rapid Insight's website.
About Rapid Insight:
Rapid Insight, Inc. is a leading provider of business intelligence and automated predictive analytics software. With a focus on ease of use and efficiency, Rapid Insight products enable users to turn their raw data into actionable information. The company's analytic software simplifies the extraction and analysis of data, enabling clients ranging from small businesses to Fortune 500 companies to fully utilize their information for data-driven decision making.