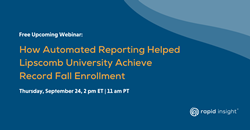 Since Lipscomb went remote, Rapid Insight has been the 'data glue' that kept everything together from an information perspective.
CONWAY, N.H. (PRWEB) September 18, 2020
When Lipscomb University made a sudden shift to remote work during the initial impact of COVID-19, a data-sharing structure and automated reporting system equipped their teams to stay connected, helping them achieve record-high enrollment and retention in the Fall semester. Their success will be highlighted in a webinar taking place on Thursday, September 24th at 2 PM ET (11 AM PT).
The webinar will detail how Matt Rehbein, Lipscomb's Director of Institutional Research, established the school's cloud-based data sharing system over the course of two years, and how it proved its full efficacy in the wake of COVID-19. The webinar will also feature Johnathan Akin, Lipscomb's Assistant Vice President of Undergraduate Admissions, and James Cousins, Analyst Manager at Rapid Insight.
In addition to an overview of how Lipscomb established its data access system, the webinar will include specific examples of reports and dashboards Lipscomb uses to keep its staff up to date, an audience question and answer session, and a brief demonstration of Bridge, the data-sharing software Lipscomb implemented.
"Since Lipscomb went remote, Rapid Insight has been the 'data glue' that kept everything together from an information perspective," said Matt Rehbein, Lipscomb University's Director of Institutional Research. "It enabled over one hundred users from all areas of the institution to take action by delivering the information they need when they need it."
"Democratized access to reliable data is critical to informed decision-making, especially for dispersed teams," said Mike Laracy, President and Founder of Rapid Insight. "We're happy our software played a role in Lipscomb's highly successful enrollment effort during a challenging time for higher education."
This webinar focuses on a topic that is timely and urgent. Colleges and universities nationwide are evaluating remote work procedures and planning for a new educational landscape during the impact of COVID-19. This webinar will offer insight into methods of ensuring that every member of an institution's staff has access to the information they need to make informed decisions.
To learn more about this webinar and to register, click here.
About Rapid Insight:
Rapid Insight is a leading provider of business intelligence and automated predictive analytics software. With a specialty in higher education and a focus on ease of use and efficiency, Rapid Insight products enable users to turn their raw data into actionable information. The company's analytic software simplifies the extraction and analysis of data, enabling institutions with student populations of all sizes to fully utilize their information for data-informed decision making. For more information, visit http://www.rapidinsight.com.
###