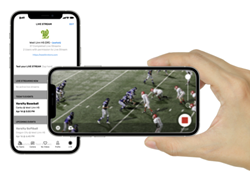 "We're empowering schools to dictate their streaming outcome. With RR STREAM, schools can stream any event, any time, at any location. Even more, they can choose where they're broadcast and if the streams are free to the community or they want to generate revenue and charge per viewer."
SEATTLE (PRWEB) May 28, 2021
The onset of COVID-19 has forced many schools to change their approach towards live events, which has unfortunately limited the exposure that high school athletes, performers, and students receive due to attendance and travel restrictions. While more teams, schools, and club organizations have turned to live streaming over the last year, technology restrictions have limited most live streaming to schools or teams with the highest budgets.
This is why Rapid Replay STREAM was created. STREAM's platform utilizes the latest in live streaming technology while making its services accessible to all schools through an easy to use platform and packages that meet the budgetary constraints of even the smallest teams within a program. In addition to giving students a chance to shine, all of STREAM's packages include revenue sharing which can provide programs with substantial funding depending on how often they stream. Some of the key differentiators in STREAM's product offering are:

Fully Integrated Streaming: Live streams can be placed directly on the school website which provides families, alumni, and fans with an easy place to watch all of the events, and maximizes the school's investment in their digital platform.
Revenue Share of Up To 75%: STREAM provides schools with the highest revenue sharing opportunities in market and allows them to generate significant revenue through STREAM's pay per view options.
Free Streaming Available: Each time they stream, teams have the option to broadcast games for free as a service to fans or charge per viewer.
Ease of Use: Live streams can be started within seconds from STREAM's mobile application which can be used to film events directly, or can be used to setup a remote camera for streaming.
Stream From All Mobile Devices: STREAM's ability to be used on any mobile device not only makes it easy, but it also allows coaches and administrators to easily stream high production quality events that take place on the road or in remote locations.
Focused on All Students: In addition to athletic events, STREAM provides similar packages to fine arts departments ensuring that all students have access to the exposure that they deserve.
HD Live Streaming: All streams are available in HD at no additional cost.
About Rapid Replay STREAM
For the last seven years, Rapid Replay has been focused on providing student athletes with exposure through video highlights, and is excited to jump into the world of live streaming with a product that works for every school and program. Rapid Replay's background in video production has provided the technical backbone for deploying a scalable and reliable streaming solution nationwide.