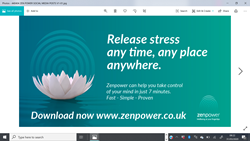 LONDON (PRWEB) April 02, 2020
Launched formally in November 2019, the stress reduction App, Zenpower, is now free to all.
There are times when we all face new stresses, anxieties and fears. Working from home, family holidays, Christmas, periods of conflict and extending the family to include our parents are a few common times.These include the frustration of being unable to live and work normally, the anxiety of isolation, the worry about friends and relatives, the stress of coping with working from home particularly when children are there too. But help is at hand. Free on request, download the http://www.zenpower.co.uk app and use company code 281270 when you register. It takes a maximum of seven minutes to deliver an unique response to stress anxiety and worry issues directly into the home, work-space, or office. Totally confidential, on average, users get a 71% reduction in their distress levels.
The Zenpower app can deliver a fast response to stress issues directly into the home, workspace, or office. Originally developed in 2007 to help reduce exam stress for children, it expanded to helping companies combat stress in the workplace. Zenpower is now being made available free for 60 days to anyone who needs it. Reducing stress and anxiety in everyday life. Reducing stress in the home is one of the founders clear purposes.
It simply involves downloading an app and then following its undemanding guidance. This involves a combination of modern Western psychology and Eastern acupressure—the system of tapping parts of the face or body with the fingertips.
Zenpower was created by CEO and Executive coach Steve McNulty and Harley St, London based practitioner, international trainer and public speaker, Kevin Laye, who say results have shown that a session can help alleviate stress and anxiety in seven minutes or less. The companies who installed Zenpower for the use of their employees all report positive results.
McNulty says..."While the app was developed directly from our work with reducing exam stress for children it expanded to companies dealing with work-place stress". Laye adds..."We felt right at the start in 2007 that, if Zenpower could help, we should make it freely available to as many people as possible."
While for many people the idea of tapping may seem a little strange the Zenpower builders insist their technique is "incredibly intuitive and easy to follow". As well as tapping the body lightly but firmly with two or three fingers users are also requested to perform simple eye movements.
To download the app now simply visit our website and download our app at http://www.zenpower.co.uk and enter 281270 as the company code to access free for 90 days.