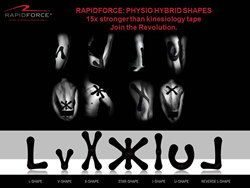 CE has worked with the best athletes in the world. Each would've benefited by using RAPIDFORCE, a world-class rehabilitation product to assist in recovery. RAPIDFORCE's physio hybrid shapes are revolutionary compared to kinesiology tape. -Evan Morgenstein
New York, New York (PRWEB) November 20, 2014
RAPIDFORCE, creator of a revolutionary new line of physio hybrid shapes, has partnered with CelebExperts, a leading corporate consulting firm to aid in the growth of important sports marketing opportunities, sales development and branding.
RAPIDFORCE and their current line of physio hybrid shapes features seven different shapes that provide simple solutions for muscle support and pain management for athletes, exercise enthusiasts and active individuals alike. Whereas most kinesiology tapes must be layered and wrapped into patterns, RAPIDFORCE has developed pre-cut shapes that exhibit one continuous piece with a central point and stabilizing arms for maximum support and full range-of-motion to help increase blood flow to the inflamed area.
With a firm background in sports marketing and brand activation, CelebExperts will first help RAPIDFORCE build relationships with specific sports leagues, organizations and professional athletes to use and promote the products. RAPIDFORCE looks to connect with three main consumer groups including competitive edge adults, team sport athletes and most importantly the 35-65 demographic who lead active lifestyles but can be sidelined by recurring ailments.
"Our products have been designed with a wide-range of active individuals in mind from the professional level all the way down to amateur athletes and the everyday consumer. Our scientifically proven design provides pain relief and muscle support for any individual who can't afford to slow down or lose valuable training days due to injury," said RAPIDFORCE Branding and Marketing Vice President Jenny Smith-Skwierawski.
RAPIDFORCE has already garnered the support of professional tennis player John Isner and CelebExperts will look to expand the brand's roster of professional athlete ambassadors who benefit from the physio hybrid shapes that are fifteen times stronger than other elastic tapes on the market. CelebExperts President and CEO Evan Morgenstein commented, "We have worked with some of the best athletes in the world. Every one of them have needed world-class rehabilitation products to assist in recovery and help them while they compete. RAPIDFORCE's physio hybrid shapes are revolutionary compared to kinesiology tape. Every athlete is a champion when they use RAPIDFORCE products."
RAPIDFORCE and their exciting line of physio hybrid shapes will change the way active individuals and athletes rehabilitate injuries and maintain their often rigorous training schedules. RAPIDFORCE understands that athletes and active individuals alike do not have time to slow down or miss weeks in their training regimens. RAPIDFORCE is committed to providing individuals with a proven solution to help get athletes back on the field quicker and aid in the management and healing of various injuries for active individuals.
About RAPIDFORCE
RAPIDFORCE physio hybrid shapes are innovative new products dedicated to providing simple solutions for muscle support and pain management. Based on the science of physiology and movement, RAPIDFORCE physio hybrid shapes serve as an external muscular-skeletal layer, providing unprecedented support in a dynamic and unobtrusive way. RAPIDFORCE physio hybrid shapes leverage the underlying muscles, tendons and ligaments as reinforcement to the injured or stressed area, resulting in numerous benefits including muscle support, pain relief, increased blood flow and improved range of motion.
About CelebExperts
CelebExperts was created by industry veteran Evan Morgenstein who has a diverse background in talent representation, brand activation, sponsorship procurement, celebrity acquisition, licensing, and other areas of expertise revolving around the utilization of and achieving the greatest impact from a celebrity. To inquire about a possible team or league sponsorship, athlete endorsements or marketing opportunities with RAPIDFORCE contact consulting(at)celebexperts(dot)com, or to speak directly to a corporate consultant call (919)459-5426.