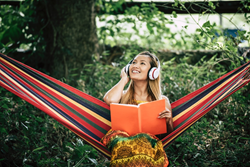 Snow Joe® has launched a new and completely revamped Bliss Hammocks® eCommerce shopping site where customers will have direct access to the entire Bliss Hammocks® product line
HOBOKEN, NJ (PRWEB) May 03, 2021
Snow Joe®, and its complementary brands Sun Joe® and Aqua Joe®, (https://snowjoe.com), a technology-powered tools company that innovates and distributes high-quality, yet affordable, eco-friendly lawn and garden equipment, recently acquired Bliss Hammocks®. This acquisition immediately expands Snow Joe's manual, corded and cordless lawn and garden product assortment into a new sector of the consumer market: outdoor recreation and leisure. Snow Joe® selected Bliss Hammocks® because of the latter's reputable 16-year history in the outdoor recreation industry, its quality product portfolio touting the trend-setting "Hammock In A Bag" as its staple, and its ability to successfully execute multiple mass-merchandising programs to Walmart, among other major big-box retailers. Snow Joe® intends to broaden the appeal of the hammock company's niche product line by opening up new direct-to-consumer eCommerce channels for customers to shop the Bliss product catalog online while simultaneously offering the best-in-class customer experience that Snow Joe® customers have come to expect.
"We're super excited about Snow Joe's acquisition of Bliss Hammocks® since it allows us to rapidly expand into the outdoor leisure category, immediately reach new customers, and meet our customers' increasing demand for quality outdoor living essentials," commented Paul Riley, Jr., Chief Operations Officer at Snow Joe®. "By taking Bliss under Snow Joe's wing, not only will this catalyze the expansion of both the Snow Joe® and Bliss brands, but the acquisition will also extend Snow Joe's high standards of customer service and support to our newly acquired Bliss customers."
Snow Joe® has launched a new and completely revamped Bliss Hammocks® eCommerce shopping site where customers will have direct access to the entire Bliss Hammocks® product line, which will include its iconic "Hammock In a Bag", gravity-free loungers, UV-protective canopies, adjustable hammock tree straps, collapsible spreader bars for hammock chairs, tandem hanging hammock kits, wheel kits for zero gravity chairs, and much more. Visit blisshammocks.com to shop the entire outdoor leisure collection and experience Bliss today.
About Snow Joe® + Sun Joe®
Snow Joe®, and its complementary brands Sun Joe® and Aqua Joe®, planted its roots as a digitally native, direct-to-consumer company that designs, develops and distributes high-quality, yet affordable, lawn and garden tools. Intuitively merging advanced eCommerce technology on the back-end with innovative tools on the front-end, the "Joe" family of brands has disrupted the lawn and garden landscape by its swift ability to get its tools into the hands of its customers fast when they need them most, especially during weather emergencies. Originally founded in 2004 with the mission to bring homeowners smart winter solutions, the company has grown to become not only the market share leader in electric and cordless snowblowers, but also the leader in the electric pressure washer category. Over the years, Snow Joe has evolved into a robust, omnichannel, customer-centric business that now offers a wide range of problem-solving tools to keep your home, yard and garden looking beautiful throughout the year. From battery-powered snow blowers and snow throwers, lighted snow brooms and roof rakes, to electric mowers and leaf blowers, pressure washers, watering equipment, tillers, trimmers, hedgers and edgers – there's a solution for every season. Go With Joe® and Get Equipped® with the right tools to tackle any outdoor chore. For more information, visit: https://snowjoe.com or connect with Snow Joe® + Sun Joe® on Facebook and Instagram. For media inquiries, please contact pr@snowjoe.com
About Bliss Hammocks®
Bliss Hammocks® is a wholesale manufacturing company dedicated to mass merchandising programs consisting of unique recreational products for outdoor living. Its product line centers around its staple item, the hammock. Over the last 16 years, Bliss Hammock's has been able to successfully create and market a unique line of outdoor living products that offer a winning combination of top quality workmanship and state of the art packaging and design to big-box retailers, including Walmart, Target, QVC, Amazon, Costco, Bed, Bath & Beyond, amongst many others. Visit blisshammocks.com to shop the entire outdoor leisure collection and experience Bliss today.