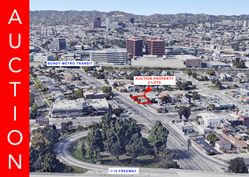 "For builders, developers, or anyone looking to add to their real estate portfolio in the Los Angeles area, this unique auction buying opportunity does not come along everyday."
LOS ANGELES (PRWEB) February 08, 2021
It has been said, "If you want to buy land in Los Angeles, you want to buy to build," and it could not be more of an opportune time than with these two properties in a newly rezoned residential neighborhood of West LA and Santa Monica. The combined property totals 5,414.4 sq. ft. over the two adjacent lots and offers a myriad of choices when considering development, multi-family homes, local living and so much more. Now is your chance to own this prime development opportunity at your price. Supreme Auctions will offer the two parcels at auction on February 27, in cooperation with Devin Doherty of eXp Realty of California Inc.
"For builders, developers, or anyone looking to add to their real estate portfolio in the Los Angeles area, this unique auction buying opportunity does not come along everyday," stated Jennie Heal, President of Supreme Auctions. "The property location has ease of access to everything the region has to offer, being just minutes from the I-10 Freeway, LAX, and two blocks from the Bundy Metro Transit Station, which provides easy access to Santa Monica Pier and downtown Los Angeles. You couldn't ask for a better place to live, work, play or invest."
The adjacent lots are conveniently located in the western area of Los Angeles County. This thriving area plays host to numerous schools, including a number of colleges and universities, businesses, shopping facilities, parks, beaches, and entertainment venues. No matter your passion in life, you can find it in this celebrated metropolis.
"The recent rezoning of the property allows these two residential lots to possess a huge upside in value due to the possibilities allowed by building to the maximum," stated eXp Realty of California Inc. listing agent, Devin Doherty. "Having practically limitless opportunities, the properties are ideal for the savvy investor, builder or developer. Being rezoned RAS4-1VL, the properties can successfully be developed into a multiple-story condominium complex, multi-family homes or other conglomerate living structure. Your imagination can truly run wild. An unofficial Yield Study of the land highlights a minimum of eight units throughout three-stories with a lower-level parking area as a possibility for the location."
The existing house on the Bundy lot has been newly remodeled and features two bedrooms, a bathroom, grassy front yard, private back patio, kitchen, dining room and living space. Whether you decide to purchase this home separately or add the vacant lot on Tennessee next to it, you'll be pleased by the opportunities that the properties offer.
"These residential lots are extremely attractive to prospective buyers due to their convenient location, being just 10-15 minutes away from Century City, 3rd Street Promenade, Venice, and Santa Monica," the current owner stated. "The lots at Bundy and Tennessee will transform your living experience and spark your creativity with their location and unlimited potential… the ideal California dream."
These prime residential parcels will be sold at auction on February 27, to the highest bidder. To learn more, contact Supreme Auctions at (866) 929-2243 or visit SupremeAuctions.com.
About Supreme Auctions
Supreme Auctions, the firm who started the Luxury Real Estate Auction Industry, is a leader in luxury real estate property auctions, providing proprietary accelerated marketing services unique to each distinctive property represented and sold. The company has a dedicated team of auction marketing professionals that provide decades of expertise, integrity, and knowledge. As the Architects of the Industry™, Supreme Auctions provides the highest level of service to both sellers and buyers of multimillion-dollar luxury properties by combining experience with the most current technology and marketing resources. The company offers sellers and luxury brokerages worldwide the optimal auction strategy to ideally suit each exclusive property, providing services that are unparalleled in the luxury real estate auction industry.