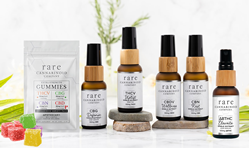 Our new Gummies Variety Packets make the perfect stocking stuffers, and, since deals can be combined, we're seeing customers stocking up on their favorite cannabinoids and getting lots of free items for gifts.
HONOLULU (PRWEB) November 23, 2021
Rare Cannabinoid Company announces its best-ever Black Friday Deal: Buy two get one free on its entire apothecary of cannabinoids: THCV, CBDV, Delta-8-THC, CBDA, CBC, CBG, CBN, full spectrum Hawaiian CBD, terpenes and extra strength cannabinoid gummies. In addition, customers can try all of their new CBD, CBG, CBN, and THCV gummies for free when they spend $50 or more. Shop Black Friday Hemp Deals now.
The Hawaiian company's sister-brand Hawaiian Choice CBD is also offering a similar Black Friday buy 2 get 1 free deal and special offer freebies on their real fruit pineapple-passion CBD jellies. Buy Hawaiian CBD here.
Rare Cannabinoid Company sells more cannabinoids than any other brand and was the first to offer single extracts of THCV and CBDV for sale, terpene-only blends and has the strongest THCV gummies. Whether one is looking for help losing weight, improving their mood, or falling asleep at night, they have a tincture or gummy that can help. Plus, their gummies make excellent gifts.
"Our new Gummies Variety Packets make the perfect stocking stuffers, and, since deals can be combined, we're seeing customers stocking up on their favorite cannabinoids and getting lots of free items for gifts," said Jennifer Carlile, Rare Cannabinoid Company Co-Founder and Creative Director.
Here's how Rare Cannabinoid Company's deals work:
Buy 2 Get 1 FREE: Buy any three Rare Cannabinoid Company products – mix and match single extracts, ready blends, terpene-only tinctures, or cannabinoid gummies - and you'll receive the least expensive one free.
Spend $50, Get FREE Gummies: Rare Cannabinoid Company just launched the world's first high potency mix-and-match CBD, CBN, CBG and THCV gummies. For any order of $50 or more, customers will receive a free Variety Packet of Gummies. It contains one 25mg lemon THCV gummy, one 30mg huckleberry CBN gummy, one 30mg green apple CBG gummy, and three 30mg strawberry CBD gummies.
Yes, both Black Friday Deals can be combined: This means that customers can choose any three products - for example, a THCV tincture for energy and appetite control in the morning, a CBG tincture for soreness and discomfort, and a bottle of CBN gummies to help them fall asleep at night. With this combination, the pure CBG tincture is the least expensive item and will be free. Since the customer will have spent more than $50, they will also receive the packet of gummies for free.
Not sure what to buy? Rare Cannabinoid Company recently redesigned its website so that customers can now shop by need and easily find the perfect combination for any of the following needs: Energy and Focus, Sleep, Stress Relief, Discomfort, Mood Enhancers, Appetite Suppression, or Nausea.
The company believes that rare cannabinoids work best when added to full spectrum CBD or a broad spectrum CBD for the entourage effect. Each rare cannabinoid offers unique mental and physical effects which is why they should be combined for different needs. These needs and cannabinoid combinations can differ depending on time of day the person's physiological state.
Each product page offers a list of links to scientific and medical research on each cannabinoid. Here's a brief summary of what each cannabinoid is frequently taken for:
THCV (tetrahydrocannabivarin): Acts like a stimulant, as it increases energy and suppresses hunger, shows promise in reducing the risk of type 2 diabetes, anxiety and panic attacks, and addiction to nicotine.
CBN (cannabinol): May promote rest, relaxation, sleep, and is believed to be more strongly sedative than other cannabinoids, especially when combined with delta-8 THC and relaxing terpenes.
Delta-8 THC (delta-8-tetrahydrocannabinol): Relieves discomfort and nausea. Offers similar effects to delta-9-THC with less risk of anxiety or paranoia.
CBC (cannabichromene): Best non-psychoactive cannabinoid for improving mood as it raises levels of the brain's bliss chemical "anandamide."
CBDA (cannabidiolic acid): Reduces nausea and may in reduce inflammation from daily exercise and activities.
CBD (cannabidiol): Promotes stress resilience, a sense of calm, and may reduce inflammation from daily activities.
CBDV (cannabidivarin): May reduce swelling from daily activities and nausea and is being studied for use in people with autism spectrum disorder, muscular dystrophy, seizures, and other disorders.
CBG (cannabigerol): May offer relief from discomfort and is being studied for use against many ailments.
Relax Terpenes: Blend of myrcene, pinene, carene, limonene, and linalool designed to promote rest, relaxation, and sleep especially when combined with cannabinoids.
Relief Terpenes: Blend of pinene, limonene, linalool, caryophyllene designed to reduce pain, inflammation, and stress especially when combined with cannabinoids.
Rare Cannabinoid Company is an American company based in the 50th state of Hawaii. It was established in the first quarter of 2020 and is a pioneer in the "rare" or "minor" cannabinoid industry, offering purified tinctures and gummies of rare cannabinoid and terpenes as well as blends with full spectrum Hawaiian CBD. Its products are sold in more than 200 locations across the United States and by prescription in Brazil.
Rare Cannabinoid Company is the sister brand of Hawaiian Choice, which was established in the fourth quarter of 2017. Hawaiian Choice is a luxury, lifestyle brand that combines premium broad spectrum Hawaiian CBD with organic and wild crafted Hawaiian fruits, essential oils and honey in an assortment of tinctures, edible jellies, topical gels, and pet products. Its products are also sold in more than 200 locations from New York to Tokyo to the Mariana Islands.
Stores interested in stocking Rare Cannabinoid Company and/or Hawaiian Choice products can request a wholesale account at Wellness Orders.