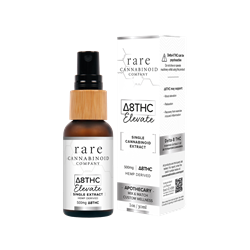 "A lot of customers have been asking for Delta-8-THC so we're very excited to be able to offer this purified oil now."
HONOLULU (PRWEB) March 09, 2021
Rare Cannabinoid Company announces the launch its much-anticipated Delta-8-THC oil tincture. This rare cannabinoid joins the brand's apothecary-style line-up of purified THCV, CBN, CBG, CBC, extra high strength 3000mg CBD and Rare Hawaiian CBD. CBDA is also being launched this week.
"Delta-8-THC offers many of the same health and wellness benefits as Delta-9-THC and may elevate one's mood and mind," says Jared Dalgamouni, founder and CEO of Rare Cannabinoid Company.
Delta-9-THC is the main psychoactive ingredient in cannabis and is only sold in cannabis dispensaries. Delta-8-THC is chemically similar but is derived from hemp and can be sold in stores and online across most of the United States.
"A lot of customers have been asking for Delta-8-THC so we're very excited to be able to offer this purified oil now," Dalgamouni says.
Scientific and anecdotal evidence suggests that Delta-8-THC is about half to two-thirds as intoxicating as Delta-9-THC. It is believed to offer a smooth high without the racing thoughts, anxiety or paranoia that Delta-9-THC can sometimes induce.
"This could make Delta-8-THC a better choice for people who are using it for therapeutic rather than recreational purposes," says Dalgamouni.
Newcomers to cannabis or those who prefer a more functional high may also enjoy it alongside those who are well-accustomed to the intoxicating effects of THC.
Like all cannabinoids, Delta-8-THC interacts with the body's Endocannabinoid System (ECS), offering many potential therapeutic benefits. The National Cancer Institute describes it as having "antiemetic, anxiolytic, appetite-stimulating, analgesic, and neuroprotective properties."
Delta-8-THC has been studied for reducing cancerous tumors in mice and preventing vomiting in child cancer patients undergoing chemotherapy treatment. Other studies have been carried out on Delta-8-THC's potential for improving cognitive function and raising levels of acetylcholine (Ach) in the brain, which is noteworthy because declining levels of Ach are related to Alzheimer's Disease.
Rare Cannabinoid Company's new product contains 500mg Delta-8-THC in a 30ml bottle and sells for just $49, including free U.S. shipping. Customers can also subscribe and save 15% on every order and cancel at any time without penalties. Interested wholesalers with brick-and-mortar stores can enquire here.
The Delta-8-THC tincture is a sublingual oil, which means that it is placed under the tongue, held for 30 seconds and swallowed. This ensures that it enters one's system quickly without smoking or vaping.
More and more people are turning to sublingual tinctures due to the U.S. Mail ban on all vaping devices, liquids and components, which includes Delta-8-THC vape products. (UPS, FedEx and DHL are also banning shipments of vape products, including Delta-8-THC vape items.)
Rare Cannabinoid Company specializes in "rare" or "minor" cannabinoids and was the first in the world to offer a purified THCV oil tincture.
"The idea behind our apothecary-style offering is that people can mix and match cannabinoids according to their specific needs, essentially creating their own unique blend," says Dalgamouni.
After all, each cannabinoid is believed to offer different benefits. THCV may be helpful for appetite suppression, weight loss and energy. CBN is believed to help people relax and improve their sleep. CBG is being studied for uses including pain, inflammation and aging. CBC may boost anandamide – the "bliss" chemical found in the brain – and therefore CBC may be helpful in lifting one's mood. Rare Cannabinoid Company is also launching a CBDA product, which has been studied for easing nausea and among other potential benefits.
Each rare cannabinoid can be purchased as a 500mg sublingual tincture. They can be combined with each other, full spectrum Rare Hawaiian CBD or boosted with extra high strength 3000mg CBD. "Ready blends" are ready-mixed one-to-one rare cannabinoid with full spectrum Rare Hawaiian CBD for a one-and-done oil that offers the entourage effect.
Please note that due to Delta-8-THC's possible intoxicating effects people cannot drive or operate machinery while taking it. It may also cause one to turn up positive on a drug test. It is currently legal in most of the United States but is banned in: Alaska, Arizona, Arkansas, Colorado, Delaware, Idaho, Iowa, Mississippi, Montana, Rhode Island and Utah. This means that it cannot be sold in stores or shipped to addresses in those states.
Rare Cannabinoid Company was established in the first quarter of 2020 by the founders of Hawaiian Choice, Hawaii's most-popular CBD brand. The company was designed to go beyond CBD and THC by offering an apothecary-style approach to cannabinoids so that every customer can design their perfect blend for morning, night or everyday relief.