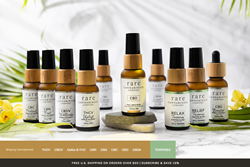 People want to know what each cannabinoid does and how it can help them
HONOLULU, Hawaii (PRWEB) November 08, 2021
Rare Cannabinoid Company has launched a new website designed to help hemp and cannabis consumers learn how specific rare cannabinoids and terpenes may improve their mental and physical health. The website - rarecannabinoidco.com - offers a wealth of information and links to scientific research on THCV, CBDV, CBN, CBG, CBC, CBDA, CBD, Delta-8-THC and terpenes. People can explore the website in a variety of ways, including a new "Shop By Need" function which shows the best cannabinoids for "Sleep," "Energy and Focus," "Stress Relief," "Discomfort," "Mood Enhancers," "Appetite Suppression" and "Nausea." For those seeking even more specialized care, they can find a cannabinoid health advisor near them.
"People want to know what each cannabinoid does and how it can help them," said Rare Cannabinoid Company founder and CEO Jared Dalgamouni.
"We designed this site to make it easy and enjoyable to learn about these natural compounds and their unique properties," he said.
"Education is so important and yet so often lacking in the cannabis and hemp space," Dalgamouni said.
Rare or minor cannabinoids are compounds found in hemp, cannabis, and other plants that are believed to offer specific wellness benefits. However, unlike CBD and THC, they naturally occur in extremely small amounts. Thanks to recent advances in breeding, extraction, and technology, they can now be produced in large enough quantities to be sold on their own. Meanwhile, terpenes are oils that also produce certain effects. They are increasingly believed to be responsible for the differences in aroma and feel of different cannabis strains.
Each rare cannabinoid and terpene offers very different effects. For example: THCV acts like a stimulant, increasing energy and suppressing appetite, while CBN is best for relaxation and sleep. Others have more niche uses, such as CBDA, which may ease nausea, and CBDV, which is being studied for potential benefits for people with autism spectrum disorder and muscular dystrophy.
By isolating each of these cannabinoids and terpenes, Rare Cannabinoid Company encourages people to mix and match them as needed for their personalized care.
"We hope people will do their research, use our links to studies in the National Library of Medicine and British Journal of Pharmacology, and find out what works for them," said Dalgamouni.
"People can use our information and products to take control of their cannabinoid regime, creating different blends for morning, night, or depending how they're feeling," he said.
Rare Cannabinoid Company currently offers an apothecary line of high strength single extracts of rare cannabinoids - THCV, CBDV, CBN, CBG, CBC, CBDA, CBD, and Delta-8-THC, and terpene-only blends for relaxation and discomfort relief. Those products are intended to be combined with their full spectrum Rare Hawaiian CBD, or one's own favorite full or broad spectrum oil, for the entourage effect.
For those who want a simpler, one-and-done oil, they offer 1:1 blends of THCV, CBG, CBN, or CBC pre-blended with full spectrum Rare Hawaiian CBD.
They are also about to launch high potency cannabinoid gummies, each containing a large amount of THCV, CBN, CBG or CBD. They are intended to be a tasty way to experience the brand's mix-and-match apothecary concept.
Another unique feature of the website is a map and list of cannabinoid health advisors. For people with specific ailments who need more specialized care, this can be a very useful feature. The list is comprised of doctors, nurses, clinicians, and naturopathic doctors who are knowledgeable about CBD, THC, rare cannabinoids, terpenes and the brand's specific products. They are independent advisors who offer appointments in office or by phone or video. The company is actively seeking to develop relationships with more cannabis/hemp advisors. Interested, qualified advisors can email info@rarecannabinoidco.com.
The site also has a map of the more than 200 locations stocking its products across the United States. It also shows independent lab reports, explains how products are produced in a cGMP certified facility, and keeps its blog up-to-date with articles on the latest research into cannabinoids and products.
Rare Cannabinoid Company is an American company based in Hawaii. It was established in Q1 2020 and is a pioneer in the "rare" or "minor" cannabinoid industry, offering purified tinctures and gummies of rare cannabinoid and terpenes as well as blends with full spectrum Hawaiian CBD.
It is the sister brand of Hawaiian Choice, which was established in Q4 2017. Hawaiian Choice is a luxury, lifestyle brand that combines premium broad spectrum Hawaiian CBD with organic and wild crafted Hawaiian fruits, essential oils and honey in an assortment of tinctures, gummies, salves and pet products.
Stores interested in stocking Rare Cannabinoid Company and/or Hawaiian Choice products can request a wholesale account at Wellness Orders.