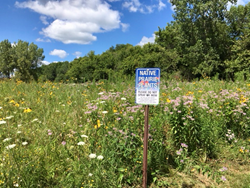 Property owners of Lake Carroll know they are part of something special.
LAKE CARROLL, Ill. (PRWEB) October 01, 2018
Property owners of Lake Carroll know they are part of something special. The lake and surrounding community was recently featured in an episode of "House Hunters" and now members have even more to boast about – a rare, remnant prairie located on either side of the ATV trail in Section 25.
Historically, prairie once covered 60 percent of Illinois' landscape. Now, less than 0.1 percent of that original prairie remains. A remnant prairie is a native prairie. Unlike restored prairies, which have been re-established or returned to prairie (such as the one just north of the dam at Lake Carroll), prairie remnants are original, pre-settlement prairie landscape. To help preserve their unique find, Lake Carroll's property owners formed a grassroots organization they are calling the Prairie Club.
According to the Prairie Club, there are seven reasons why prairies are so special.
1. They are beautiful with colorful, scented flowers that bloom all throughout the spring, summer, and fall; with grasses and sedges blowing in the breezes.
2. Prairies require less long-term maintenance. Their plants can survive floods, fires, and droughts with 5-15-foot-deep root systems.
3. They clarify water quality by filtering contaminants and preventing sediments from entering water bodies.
4. Prairies anchor soils. Once established, an acre of prairie can produce 24,000 pounds of roots- decreasing erosion, adding humus to the soil, and it can absorb 9" of rainfall/hour before runoff.
5. They provide wildlife habitats for pollinators/insects, birds, and animals.
6. Prairies form biotic barriers to invasive species (weeds).
7. They sequester carbons, i.e. plants convert and consume carbon emissions.
Lake Carroll is very fortunate to have a small piece of what was originally formed over 8,000 years ago after the last glacier receded. Thanks to the Prairie Club it will be protected for future generations to enjoy.
About Lake Carroll
Lake Carroll is a four-season recreation community located less than two hours from the Chicagoland area. The private lake has miles of open water for boating and water sports as well many quiet bays and coves perfect for fishing, swimming, and relaxing.
The Lake Carroll experience also includes membership at our 18-hole golf course, with reciprocal courses, and access to a network of trails for hiking and motor-sports. Complete with indoor and outdoor swimming pools, a campground, equestrian area, and a ski area featuring a bunny hill, terrain park, and tubing lift, Lake Carroll offers something for everybody year-round. To learn more about Lake Carroll visit golakecarroll.com.