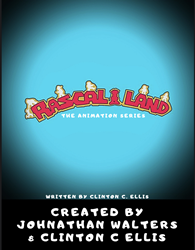 Rascal Land has all the hallmarks of being the next great animated cartoon series.
CHICAGO (PRWEB) May 26, 2020
Rascal Land is going to take the cartoon industry by storm. The new animated cartoon series in development is already seeing traction and engagement with kids in every corner of the world thanks to the cast of little rascals and the brand's engaging, entertaining and educational goals.
"Human development starts with our youth," says Johnathan Walters, CEO of Rascal Land, "and Rascal Land will boost that development. The series is designed to provide educational value in an entertaining and engaging format for toddlers and tweens around the world. It is content with a purpose. The cast of little rascals are a fun mix of personalities that are relatable. They have some wild adventures throughout the series, but at each turn there is a lesson on life, morals, values and manners."
The little rascal characters, each with their own personalities, strengths and weaknesses are destined to become household names in no time. Sassy has her hands full making sure the little rascals stay out of trouble, helping Mooner Man, Baby Dewey, Ana Wanna, Fat Boy, Little Mariache, Angela Boo, Bikey Mikey, Poo Pot, Gordo, Princess Sunai, Bolly, and Rude Boy through epic adventures.
Rascal Land CEO, Johnathan Walters, is hard at work behind the scenes, and while his passion is to develop cartoons that educate and entertain kids, he is a powerhouse when it comes to the brand because he knows its value. There are talks of partnerships with major cartoon networks, the development of merchandise, toys and apparel, and much more. When asked how he feels about the hype building behind the Rascal Land brand, Johnathan stays level-headed and says "I know Rascal Land has all the hallmarks of being the next great animated cartoon series, and the brand will grow exponentially, but I want to ensure that we do so responsibly and keep our emphasis on content with a purpose, teaching academics, morals and manners to kids around the world."
As a teaser, and introduction to two of the many Rascal Land characters, the brand dropped their first Rascal Land Dance Challenge on YouTube in April and generated incredible traction. Mooner Man and Bay Dewey got their moves on, challenging toddlers and tweens to join them in a dance off and have some fun. Gaining 9000 views, from every corner of the globe, is a sure sign that Rascal Land is soon to become a household name.
Stay tuned to the Rascal Land Inc. YouTube channel to meet more little rascals, have some fun, and learn life lessons, morals, values and manners.