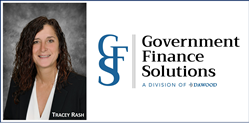 "GFS delivers financial solutions and augments staff and operations, on either a temporary or permanent basis—differentiating us in a market where Tracey is firmly established," said President Bony Dawood, PE.
HARRISBURG, Pa. (PRWEB) November 16, 2021
Dawood, an international planning and technology firm, hired Tracey Rash to lead the company's Government Finance Solutions (GFS) division. Dawood's GFS team empowers clients to bridge the gap between financial processes and municipal goals. A sought-after industry advisor, Rash brings three decades of experience to this role.
"Tracey is an award-winning governmental accounting expert whose financial acumen strengthens our ability to deliver funding solutions with community connections," said James Rodgers, Chief Strategic Officer with Dawood. "This expands and diversifies the municipal revenue base and improves fiscal performance."
Rash works closely with John Mizerak, director of community and economic development with Dawood. Combined, the duo has helped more than 100 clients prepare budgets, capital plans, and financial statements while securing over $80 million in state and federal funding.
"We're passionate about helping government clients solve challenges," adds Mizerak. "GFS positions us to leverage more than $1.5 trillion in American Rescue Plan Act funds and $1.2 trillion in Infrastructure Investment and Jobs Act funds from President Biden's 'Build Back Better' agenda."
A Pennsylvania native, Rash was named a 2015 Woman of Influence by the Central Penn Business Journal. She is active with the Government Finance Officers Association, Pennsylvania Municipal League, and Pennsylvania Local Government Training Partnership.
Rash served as a board member for Leadership Harrisburg Area and Tri-County Community Action Commission. She also served on the task force for the Governmental Accounting Standards Board (GASB) providing guidance and feedback on GASB projects.
About GFS
Government Finance Solutions (GFS), a division of Dawood, creates strategies that combine effective funding solutions and provides approaches for revitalizing the regional economies. GFS financial management experts assist with audit and budget preparation, capital planning, compliance modeling, market analyses, resource utilization, productivity improvements, stakeholder communication, technology efficiencies and municipal staff training.
About Dawood
Dawood planners, surveyors, engineers and technologists transform global infrastructure. Forward-thinking finance managers, the firm has designed and built sustainable environments for four decades. An Esri® Bronze partner, Dawood unites geographic information systems with building information modeling—enhancing data management and digital twin 3D visuals. An award-winning catalyst for growth, Dawood delivers turnkey solutions to municipal, economic development, land development, energy, real estate, transportation, and utility clients. The company's workforce development, mentor-protégé, and community programs advance STEM, diversity, and inclusion.
Learn more:
https://www.dawood.net/
https://www.linkedin.com/company/dawoodengineers
https://www.facebook.com/DawoodEngineers
https://twitter.com/DawoodEngineers