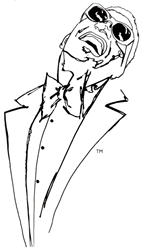 Ray Charles is a musical North Star. We can always count on him to accent any emotion we may be feeling. This is what genius is all about.
LOS ANGELES (PRWEB) September 24, 2020
September 23 marked a momentous occasion in music history. It's the 90th birthday of the late Ray Charles, aka "The Genius" behind timeless classics such as "What I'd Say," "Hit the Road Jack," "I Can't Stop Loving You," and "Georgia on My Mind." 
In honor of the 17-time Grammy Award winner, James Taylor, Johnny Mathis, Carol Burnett, Loretta Lynn, and Vin Scully are among the host of celebrities paying tribute to Brother Ray via social media posts on the Ray Charles website. Concurrently, debuting today, fans are invited to take an exciting virtual reality tour of the virtual-tour of the Ray Charles Memorial Library's vast collection of memorabilia — from his colorful stage wardrobe to his office and studio.
In further commemoration of the artist's 90th anniversary, a curated box set of 90 Ray Charles songs will be released in 2021. The tracklist and additional details will be announced in the coming months. 
However, the celebration of Charles' prolific legacy and the ongoing worldwide appeal doesn't end there. The Ray Charles Foundation, headed by its President Valerie Ervin, is concurrently helming several upcoming projects, including a documentary, biography, and Broadway musical. All three will encompass Charles' multi-genre career and equally savvy business acumen. His explosive combination of blues, gospel, and R&B in the '50s pioneered the launch of soul music. It forever sealed his reputation as an artist who always delivered passion and authenticity in his music and vocals.
Ms. Ervin reflected, "Ray Charles is a musical North Star. We can always count on him to accent any emotion we may be feeling. This is what genius is all about."
Charles' talent and barrier-breaking creative foresight also propelled his strategic decision to leave Atlantic in 1961 and sign with ABC-Paramount Records, where he negotiated a lucrative and rare stipulation for an artist, let alone a Black artist: ownership of his master recordings, along with his own Record Label, Crossover Records, and two publishing companies, Tangerine Records and Racer Music. Beyond launching Tangerine in 1962, Charles recording on his own label, in turn, released his landmark album, Modern Sounds of Country and Western Music, that same year. 
Before Charley Pride, Darius Rucker, and Lil Nas X, Charles broke the country color line, He became a catalyst for change in the burgeoning civil rights movement with the gold-certified Modern Sounds of Country and Western Music. Acclaimed as one of the greatest albums of all time by Rolling Stone and Time, the two-volume package spun off four country, pop, and R&B crossover hits including "I Can't Stop Loving You" and "You Don't Know Me." Set to coincide with the album's 60th anniversary in 2022 is a book written by well-known country music journalist/editor, Tom Roland. Through insightful interviews and research, he will take readers behind the storied recording sessions' scenes and examine the albums' groundbreaking cultural impact.
In the 16 years following Ray Charles' death in 2004, the Ray Charles Foundation continues to do what the dedicated philanthropist mandated. Since the non-profit was formed in 1986, $50 million in grants have been provided on behalf of education and research focused on hearing disorders. This year the Foundation donated $1 million to the Cedars Sinai Medical Center Department of Neurosurgery, working with Dr. Keith L. Black to establish The Ray Charles Scholars Fund in Neurosurgery program.
Housed in Charles' Los Angeles-based RPM International complex and the Ray Charles Memorial Library, the Ray Charles Foundation owns and controls the worldwide rights to Ray Charles's catalog, name, likeness, and post-Atlantic masters and compositions. The Foundation's oversight extends to Charles' Tangerine and Racer Music publishing copyrights, including songs by Percy Mayfield, Little Jimmy Scott, and Louis Jordan, to name a few. 
 
To learn more about the Foundation visit http://www.theraycharlesfoundatioin.org and http://www.raycharles.com.
For more information, contact David Brokaw of The Brokaw Company at db@brokawco.com, 310- 614-4188