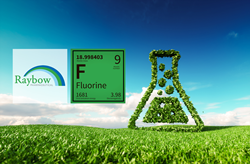 "We are happy to be able to share our experiences in an effort to further the fluorine chemistry field. The scientific team has been generous in sharing their knowledge," said Hütten.
MUNICH, Germany (PRWEB) September 03, 2020
On September 16th at 2:00 PM CEST Raybow Pharmaceutical's Dr. Dirk Hütten will present real world data and case studies from Raybow's experienced team of scientists. The webinar is titled "Safe and Efficient Fluoroalkylations".
Fluorine chemistry is an exciting and evolving field in the world of science but is not without its issues.
Raybow Pharmaceutical's scientific team has exceptional knowledge and experience with Fluoroalkylation reactions. ​In this 45 minute online presentation Dr. Dirk Hütten will present some of the key efficiencies realized through Raybow's work in the field. The webinar will showcase how Raybow has been able to increase efficiency while overcoming the challenges presented by these reactions. Fluoroalkylation is an important part of Raybow's green chemistry focus.
This presentation includes a live Q&A where Dr. Hütten will answer questions. The webinar will be recorded for on-demand playback at Raybow.com.
Raybow has pharmaceutical manufacturing facilities in Taizhou and Suzhou in China as well as R&D centers in Taizhou and Hangzhou in China.
Raybow has experienced R&D teams at world class R&D centers in Hangzhou and Taizhou in China as well as Brevard, NC in the United States.
Raybow Pharmaceutical is a global CDMO with team members and facilities in the United States, Europe and China. Raybow Pharma brings client projects from medchem to commercial launch and has developed client NCE's that are now blockbuster status (USD$1Bill. in prescription sales). Raybow is motivated to create solutions to solve their clients' chemical development challenges in order to get new life saving and life changing small molecule drugs to market successfully.