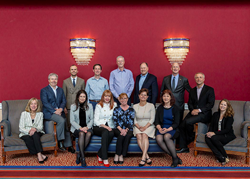 RBMA announces the 2019-2020 Board of Directors which includes an historic all-female executive council.
FAIRFAX, Va. (PRWEB) April 24, 2019
The Radiology Business Management Association (RBMA) is proud to announce the election of its 51st board of directors. Each year since the RBMA was founded in 1968, RBMA members have come together to elect an all-volunteer group of board members and officers from among their peers.
For the year covering April 2019 to April 2020, RBMA will be managed by an all-women executive council.
Sarah Mountford, RCC, CPC, FRBMA, succeeds Christie James, MS, FRBMA, as president of the RBMA board of directors. Ms. Mountford previously served on the board as secretary and parliamentarian, and before that as the board treasurer. Ms. Mountford is a client services manager for Zotec Partners, Carmel, Indiana and has more than 15 years of experience in radiology billing and practice management. She is also past chair of the Programs, Bylaws and Finance Committees.
Christie James, MS, FRBMA, operations manager for Revenue Cycle Management at Massachusetts General Physicians Organization, continues her service to the board as immediate past president. She is past chair of the RBMA Programs Committee and Payor Relations Committee, as well as past president of the RBMA New England Chapter. In addition, her previous service to the board includes being the board secretary, treasurer and president-elect
Linda Wilgus, CPA, CMPE, is the new RBMA president-elect. Ms. Wilgus is the executive director and CFO for Northwest Radiology Network PC in Indianapolis, Indiana. She is the current chair of the RBMA Federal Affairs Committee and is a recipient of the RBMA Global Achievement Award and President's Award for her extensive work advocating for radiology. Ms. Wilgus was a finalist for CFO of the Year from the Indianapolis Business Journal. She was awarded the Circle of Hope Award from the American Cancer Society in 2011 and the Excellence in Leadership Award from Executive Women in Healthcare in 2013
Carol Hamilton, MBA, SPHR, FACMPE, FRBMA, has been elected as treasurer. Ms. Hamilton is the chief administrative officer at West County Radiological Group, Inc., in St. Louis, Mo. And has been in radiology management for a small imaging center and then a large hospital-based practice. She holds an expertise in human resources and is a contributor to the RBMA Bulletin on that subject. She has participated on the Membership Committee and was chair of the Educational Materials and Products Committee. She was largely responsible for the launch of RBMA U and is a faculty member for Radiology Business 101.
Shannon Wilson, FRBMA, was elected board secretary/parliamentarian. She is the practice manager at Bay Medical Management, LLC, in the San Francisco Bay Area. Shannon Wilson has 18 collective years of management experience while dedicating the past nine years to radiology marketing for Bay Imaging Consultants Medical Group. She specializes in physician and hospital relations and business development. Shannon was the recent co-chair of the RBMA Programs Committee and has served as chair of the Marketing Subcommittee.
Serving alongside RBMA's new officers, the rest of the 2019-2020 board directors at large includes:
Dr. Elaine Lewis, West Reading Radiology Associates, Reading, Pennsylvania is the board's new ACR director responsible for communication and coordination between the RBMA and ACR. Dr. Lewis joined West Reading Radiology Associates following her fellowship in 1990. She currently serves as Chair of the Department of Radiology at Reading Hospital and is a member of the Council Steering Committee for the American College of Radiology (ACR).

Tim Barrett, CPA, Radiology Associates, Baton Rouge, Louisiana
Christopher "Kit" Crancer, Center for Diagnostic Imaging, Minneapolis, Minnesota
Thomas Greeson, JD, MBA, FRBMA, Reed Smith, Tysons Corner, Virginia
Mark Kalmar, Corvallis Radiology, Corvallis, Oregon
J. Parke Keith, MSHA, MBA, Radiology of Huntsville, Huntsville, Alabama
Worth Saunders, MHA, FACHE, FRBMA, Greensboro Radiology, Greensboro, North Carolina
Delena Supinski, Imagine Software, Chandler, Arizona
More information about the RBMA Board of Directors officers and directors at large is available at rbma.org/RBMAMembers/About/Board_of_Directors/RBMAMembers/About/Board-of-Directors.aspx.
About RBMA
Founded in 1968, the Radiology Business Management Association is a national not-for-profit association providing members with applied business information and intelligence applicable in any radiology setting. RBMA represents more than 2,300 radiology practice managers and other radiology business professionals. Its aggregate influence extends to more than 24,000 radiologic technologists and 26,000 administrative staff and physicians. RBMA is the leading professional organization for radiology business management and is recognized for its radiology-specific educational programs, products and services, publications and data. The resources and solutions RBMA offers its members and the broader health care community are helping to shape the profession's future.