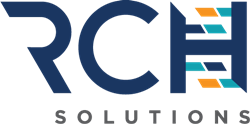 "Our business is here to enable and support scientific innovation that is continually evolving. Now, we have a modern and fresh brand, website, and way of describing what we do that matches the value we work so hard to deliver. RCH is not a well-kept secret any longer."
WAYNE, Pa. (PRWEB) February 11, 2019
RCH Solutions (RCH), a global provider of computational science expertise for Life Sciences and Healthcare firms of all sizes, today announced the official launch of a new corporate brand identity and website, propelling the veteran firm forward with a more modern and refined look and tone.
"We've had a successful business for more than 27 years," said Michael Riener, president of RCH Solutions. "As we evolve, it was essential that our visual identity and website better reflect the modern and innovative way we approach business and serve our clients."
Serving Life Sciences and Healthcare companies through advanced computational science solutions and services, RCH Solutions delivers specialized expertise that combines scientific rigor with cross-functional IT experience. This niche service is particularly critical to biotech, pharmaceutical, and healthcare companies connecting the increasingly complex worlds of research development and technology to accelerate the advancement of scientific discovery.
"What RCH does, I would argue, better than anyone else, is bridge the gap between traditional enterprise IT and scientific business teams through a depth of knowledge essential to both realms," Riener continued. "Our new logo reflects that an understanding of what it takes to advance science is central to who we are — it's literally in our DNA — expressed through the technical IT and domain experience we deliver as part of our unique client services model."
While many firms providing support for scientific computing initiatives do so by way of a staff augmentation model, RCH delivers a Managed Services model, providing companies with more flexibility, accountability, and continuity for dynamic projects of any scale. This model has proven to work best for meeting these unique customer demands, rather than simply doing what is best for the vendor.
"Our business is here to enable and support scientific innovation that is continually evolving. Now, we have a modern and fresh brand, website, and way of describing what we do that matches the value we work so hard to deliver. RCH is not a well-kept secret any longer."
RCH Solutions serves clients across the world, including eight of the top ten Life Sciences companies, with offices outside of Philadelphia, Pa., Boston, Mass., San Diego, Calif., and Brussels, Belgium. To learn more about RCH, visit http://www.rchsolutions.com.
About RCH Solutions
RCH Solutions (RCH) is a global provider of computational science expertise, helping Life Sciences and Healthcare companies of all sizes clear the path to discovery. For more than 27 years, RCH has provided focused experience and unmatched specialization designing and deploying cross-functional IT strategies, supporting R&D infrastructure, and offering workflow best practices that solve enterprise and scientific computing challenges. Learn more at http://www.rchsolutions.com