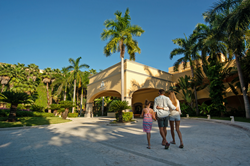 CANCÚN, Mexico (PRWEB) March 05, 2020
Recently RCI (Resort Condominiums International), the most important vacation membership exchange company in the world, announced that the four Sunset World Group hotels in Cancun and the Riviera Maya received the 2020 All Inclusive Gold Crown and Excellence in Service 2020 Awards, reaffirming the group's leadership in the holiday club segment in the Mexican Caribbean.
The resorts that were recognized include Hacienda Tres Ríos Resort, Spa & Nature Park, which received the All Inclusive Gold Crown for the 10th consecutive year, Sunset Royal Beach Resort, the only resort in Cancun and the Riviera Maya that has received this award for 27 consecutive years and Sunset Fishermen Beach Resort, which has received it for 21 consecutive years. This year Sunset Marina Resort & Yacht Club will receive a special recognition for the 20th consecutive year receiving it. In addition, all four resorts will receive the Excellence in Service award.
The RCI All Inclusive Gold Crown is awarded to affiliated properties based on members' positive survey evaluations. Members receive the survey, which includes five quality criteria, when they return home. It should be noted that only resorts that consistently receive high ratings in their surveys receive the Excellence in Service award.
Sunset World Group is a family-owned Mexican company and a leader in the hospitality industry, offering authentic and unforgettable vacation experiences in Cancun and the Riviera Maya. It was founded more than 30 years ago and has grown to offer six resorts, world-class travel services, amenities and a diverse network of operational and marketing solutions that focus on providing the best vacation experiences for its Members and guests. From cultural excursions to water sports, the Members of Sunset World are never far from their next great adventure.