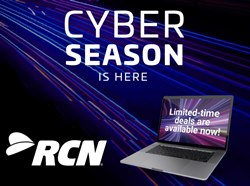 PRINCETON, N.J. (PRWEB) November 15, 2021
RCN, an award-winning* provider of high-speed internet, TV and phone services, today announced its limited-time Black Friday and Cyber Monday promotions. Deals are available to customers in each of its serviceable markets, including Boston, Chicago, DC, Lehigh Valley, Philadelphia, and New York starting November 15.
Cyber Season is here! With all the new demands on internet connectivity, RCN is offering top speeds with special holiday savings for new customers, including but not limited to:

These limited time offers provide eligible new customers options of great value and the opportunity to switch to RCN and customize their home entertainment and remote work experiences with fast, reliable, award-winning internet.
For specifics on offers and coupon codes, please visit http://www.rcn.com or the appropriate landing page linked above.
About RCN, Grande Communications, Wave Broadband and enTouch
RCN Telecom Services, LLC (http://www.rcn.com) Grande Communications (http://www.mygrande.com), Wave Broadband (http://www.wavebroadband.com) and enTouch Systems (http://www.entouch.net) form the sixth largest US cable operator and provide award-winning* high-speed internet, broadband communications solutions, digital TV, phone services and fiber optic solutions for residential and business customers across the United States. Together, RCN, Grande and Wave serves areas of Massachusetts, Chicago, Pennsylvania, New York City, and metropolitan Washington, DC (RCN); Texas (Grande Communications and enTouch Systems) and Washington, Oregon and California (Wave Broadband).
*PCMag Readers' Choice: A trademark of Ziff Davis, LLC. Used under license; Where Available. Reprinted with permission. © 2021 Ziff Davis, LLC. All Rights Reserved.