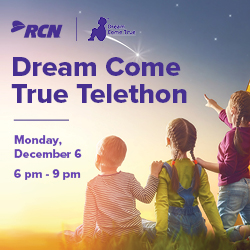 BETHLEHEM, Pa. (PRWEB) November 22, 2021
For the 36th year, RCN Lehigh Valley is teaming up with Dream Come True of the Lehigh Valley, a non-profit dedicated to fulfilling the dreams of children who are seriously, chronically and terminally ill in the Greater Lehigh Valley area, for its annual Dream Come True Telethon and online auction. Bidding in the online auction at BiddingOwl.com/DreamComeTrue is open now. The telethon airs on Monday, December 6 from 6:00 pm - 9:00 pm on RCN-TV channel 4 / HD 1004 in the Lehigh Valley and channel 8 / HD 608 in Delaware County. Financial donations are accepted during the fundraiser via phone at 610-865-3475 and on Dream Come True's website. Despite challenges presented by the pandemic last year, the 35th annual event raised over $109,000.
"We are proud to have been able to host a successful event last year despite challenges posed by the pandemic, and this year is no different," said Rayann Vasko, Executive Director of Dream Come True of the Lehigh Valley. "Our partnership with RCN Lehigh Valley and support from donors large and small across the region is crucial to fulfill the dreams for seriously ill children in our community."
The online auction hosted via BiddingOwl opened today and runs through 8:45 p.m. on December 6. Items donated by RCN's network partners and local supporters offered for bid include Apple AirPods and AirPods Pro, an Apple TV 4K, men's and women's Tokyo Olympics Nike DriFit 1/2 zips, a Kodak Luma 2350 Portable Smart Video Projector, Sonos One, Patagonia 55L Black Hole Duffel bags, two family packs of Lehigh Valley Phantoms Tickets and much more.
The Dream Come True Telethon has received crucial support from the Lehigh Valley community for many years, with commitments from long standing donors such as Mopar Madness, Monkey Knife Fight Bicycle Ride and the Lehigh Valley Region of the Antique Automobile Club of America helping to fund dreams for eligible children.
The family of a young girl whose dream was made possible thanks to funds raised from this event shared, "We are so glad our daughter was able to experience Hawaii and so grateful to the Dream Come True organization for making sure we were able to include everyone so she would have the best trip possible. You don't know just how much this means to us and how we will always cherish this trip."
The live television program is produced by RCN TV, the broadcast production arm of RCN. The evening is filled with inspiring entertainment, including a performance by country music group October Rose, interviews from previous Dream Come True recipients and dedicated community members, and more. In the wake of RCN TV Sports Director and broadcaster Gary Laubach's recent retirement, Chris Michael, RCN-TV Director of Sports & Media Services will be the new master of ceremonies alongside on-air personality Scott Barr.
"Our partnership with Dream Come True to ensure children with severe illness have their wishes fulfilled is one of our longest standing commitments in the region, and one we're dedicated to fulfilling for years to come," said Sanford Ames, Jr., General Manager of RCN Pennsylvania. "We're grateful to all organizations and individual contributors whose support of the 36th installment of this event has a significant, memorable and positive impact on local families in our community."
RCN is an award-winning provider, delivering high-speed internet with Gigabit speeds up to 940 Mbps, gaming solutions, streaming services such as Netflix, Hulu and Amazon Prime Video through the TiVo® Experience, and more to Bethlehem, Easton, Allentown and surrounding communities in the Lehigh Valley and Delaware County.
To learn more about RCN and its services, please visit http://www.rcn.com. To access the online auction today, please visit BiddingOwl.com/DreamComeTrue.
About RCN
RCN Telecom Services, LLC (http://www.rcn.com and http://www.rcn.com/business) provides industry-leading high-speed internet, digital TV and phone services for residential, small/medium and Enterprise business customers. As an eight-time recognized provider, RCN has been acknowledged in multiple residential and business categories in PCMag's Readers' Choice Awards in the years 2013, 2015, 2016, 2017, 2018, 2019 2020 and 2021. RCN was also recognized by U.S. News & World Report as the best cost-effective ISP in its Best Cable Internet Provider in 2020 and 2021 rankings. RCN is YouTube HD Verified, earning the company the highest-ranking that Google offers. RCN is also a Netflix Open Connect partner, placing in the Top rankings on the Netflix USA ISP Speed Index in the markets RCN serves. RCN's affordably priced advanced digital services are delivered through its proprietary, state-of-the-art fiber-rich network and supported by 100% U.S.-based customer service. RCN's primary service areas include Boston, Chicago, Lehigh Valley (PA), New York City, Philadelphia (Delaware County) and Washington, DC.
About Dream Come True
Dream Come True is a local nonprofit organization that fulfills dreams for children who are living in the Greater Lehigh Valley area, between the ages of four and 17 and are diagnosed with a serious, chronic and life-threatening illness.