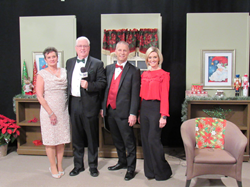 "Entering the 34th year partnering with Dream Come True to put on this important program, we remain committed to giving back to the Lehigh Valley community." said Sanford Ames, Jr.
BETHLEHEM, Pa. (PRWEB) November 21, 2019
For the 34th year, RCN of the Lehigh Valley is teaming up with Dream Come True, a non-profit dedicated to fulfilling the dreams of children who are seriously, chronically or terminally ill in the Greater Lehigh Valley area, for its annual Dream Come True Telethon and online auction.
The telethon airs live on Monday, December 9 from 6:00pm-9:00pm on RCN-TV channel 4 / HD 1004 in the Lehigh Valley and channel 8 / HD 608 in Delaware County. Financial donations are accepted during the fundraiser via phone and on Dream Come True's website. In 2018, the event raised a grand total of $98,000.
The ever-popular online auction at Bidding Owl opens on November 25 and runs through 8:45pm on December 9. Items offered for bid include Apple Airpods, Apple Watches, Philadelphia Eagles' Brandon Graham autographed helmet, Blue Mountain Ski Resort season passes, New York Rangers tickets, Zoellner Arts Center tickets, HGTV and Hallmark Channel totes full of branded goodies and much more! Interested bidders can now preview items, with more listings being added each day, ahead of the auction's opening on November 25.
The live television program is produced by RCN-TV, the broadcast production arm of RCN. The evening is filled with inspiring entertainment, including interviews from previous Dream Come True recipients and dedicated community members, volunteers and organizations. Well-known RCN-TV Sports Director and broadcaster Gary Laubach, along with on-air personalities Scott Barr and Devon Almonte, host the live event.
"Entering the 34th year partnering with Dream Come True to put on this important program, we remain committed to giving back to the Lehigh Valley community," said Sanford Ames, Jr., General Manager of RCN Pennsylvania. "Utilizing our services to help those in need is important to RCN, and we will continue to do so for years to come."
Rayann Vasko, executive director of Dream Come True, said, "Events such as the Dream Come True Telethon are only possible with the generosity of our community and the ongoing support of RCN. Year after year we continue to exceed our fundraising goals with this RCN-TV-produced telethon and auction event, and we look forward to making more dreams come true for the children of our community."
RCN provides high-speed internet with Gigabit speeds up to 940 Mbps, integrates seamlessly with streaming services such as Netflix, Hulu and HBOGO through Next-Gen TiVo Platform set-top boxes, features voice remote, 4K content, and offers a variety of innovative products to further amplify entertainment experiences such as whole home TrueMesh WiFi with eero and brilliant whole home sound with Sonos.
RCN serves Bethlehem, Easton, Allentown as well as surrounding communities in the Lehigh Valley and Delaware County. To learn more about RCN and its services, please visit http://www.rcn.com.
###
About RCN
RCN Telecom Services, LLC (http://www.rcn.com and http://www.rcn.com/business) provides industry-leading high-speed internet, digital TV and phone services for residential, small/medium and Enterprise business customers. As a five-time recognized provider, RCN has been acknowledged in multiple residential and business categories in PCMag's Readers' Choice Awards in the years 2013, 2015, 2016, 2017 and 2019. RCN is YouTube HD Verified, earning the company the highest-ranking that Google offers. RCN is also a Netflix Open Connect partner, placing in the Top rankings on the Netflix USA ISP Speed Index in the markets RCN serves. RCN's affordably priced advanced digital services are delivered through its proprietary, state-of-the-art fiber-rich network and supported by 100% U.S.-based customer service. RCN's primary service areas include Boston, Chicago, Lehigh Valley (PA), New York City, Philadelphia (Delaware County) and Washington, DC.
About Dream Come True
Dream Come True is a local nonprofit organization that fulfills dreams for children who are living in the Greater Lehigh Valley area, between the ages of four and 17 and are diagnosed with a serious, chronic or life-threatening illness.
RCN Media Contact:
Zoe Cushman
Matter Communications
rcn@matternow.com
617.874.5201
Dream Come True Media Contact:
Rayann Vasko
Dream Come True
rvasko@aol.com
610.509.4019