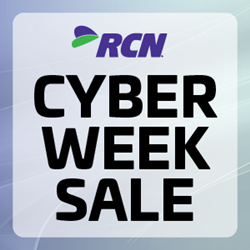 PRINCETON, N.J. (PRWEB) November 25, 2019
RCN, an award-winning provider of high-speed internet, digital TV, and phone services, today announced limited-time pre-holiday offers. Offers for new and existing customers include a variety of deals and savings on RCN's packages, beginning on November 25th and expiring December 2nd.
As the holiday season approaches, new RCN customers will have access to special incentives including gift cards of varying amounts, such as $50, $100, and even $150, depending on package, location, and other factors. To qualify, new customers must purchase an eligible package online and enter the appropriate coupon code when prompted. These pre-holiday specials may also include free installation with no contract required. Customers must be in good standing for 90 days in order to be eligible for the Visa gift card. After 90 days, customers will receive an email with instruction on how to redeem the gift card online.
In addition, current residential customers in RCN's Chicago market can enjoy discounts on WiFi powered by eero. RCN's New York City and Washington DC markets can enjoy $50 Visa gift cards when upgrading to ultra-fast Gigabit internet packages, with speeds up to 940 Mbps. Gigabit internet equipment supports internet usage throughout the entire home, allowing for faster and more reliable streaming and browsing, greater internet accessibility and increased reliability with RCN's fiber-rich network.
RCN offers a variety of innovative products and packages with the utmost in customer choice, providing great services for a connected home. Just in time for the holidays, RCN can help customers create their ideal entertainment experience through offerings such as enhanced whole home WiFi with eero TrueMesh, brilliant sound from Sonos, Next-Gen TiVo with Voice Remote, or streaming partnerships with Netflix, Hulu, Amazon Prime, Sling TV and more. Take advantage this holiday season and give yourself the gift of entertainment.
For specifics on offers and coupon codes, please visit https://www.rcn.com/cybermonday.
About RCN
RCN Telecom Services, LLC (http://www.rcn.com and http://www.rcn.com/business) provides industry-leading high-speed internet, digital TV and phone services for residential, small/medium and Enterprise business customers. As a five-time recognized provider, RCN has been acknowledged in multiple residential and business categories in PCMag's Readers' Choice Awards in the years 2013, 2015, 2016, 2017 and 2019. RCN is YouTube HD Verified, earning the company the highest-ranking that Google offers. RCN is also a Netflix Open Connect partner, placing in the top rankings on the Netflix USA ISP Speed Index in the markets RCN serves. RCN's affordably priced advanced digital services are delivered through its proprietary, state-of-the-art fiber-rich network and supported by 100% U.S.-based customer service. RCN's primary service areas include Boston, Chicago, Lehigh Valley (PA), New York City, Philadelphia (Delaware County) and Washington, DC.