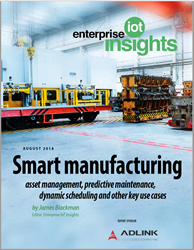 "The point is to have manufacturing processes, which are informed by data, and sparking with insight."
AUSTIN, Texas (PRWEB) August 24, 2018
The appetite for new digital technologies is growing among manufacturers, with certain brands in certain sectors in certain regions experiencing a considerable uplift in performance. But the take-up in general remains tentative, as manufacturers are unsure how to start with their digital change projects.
This is the conclusion of a new editorial report on smart manufacturing from Enterprise IoT Insights, which considers the state of the industrial 'internet-of-things' (IIoT) market, including its great promise and its limited impact, and reviews a slew of use cases and disciplines - from automotive manufacturing, to gold mining, to sausage making.
The extensive 36-page report, called 'Smart manufacturing: asset management, predictive maintenance, dynamic scheduling, and other use cases', tells the story of smart manufacturing in four chapters. The first two examine the expectations surrounding the IIoT movement ('The hype and the glory'), and its application in the manufacturing sector to date ('An alternative truth').
The second two chapters consider practical advice for manufacturers starting down the road to digital transformation, by turns offering guidance about how to approach the technology ('Use case modelling') and how to fund and recover investments in digital change projects ('Buying digital change').
The report brings together interviews from across the industrial technology market, including from vendors ADLINK, Cisco, GE Digital, Hitachi Vantara, OSIsoft, PTC, Telia, Telit, and Verizon. It also features commentaries from analyst houses and trade institutions, including ABI Research, Gartner, the Industrial Internet Consortium (IIC), the Information Technology and Innovation Foundation (ITIF), the Manufacturing Enterprise Solutions Association (MESA) International, and Strategy Analytics.
Besides, Enterprise IoT Insights presents case studies from a cross-section of manufacturing companies, including ABB, Arcellor Mittal, Aurelia Metals, Daikin, Deschutes, Hitachi, HIROTEC, Honda, Intel, Mitsubishi, Multi-Tech Systems, Schindler, SIG, Toyota, Tyson.
Download this report to discover:

how far apart the hype and reality surrounding the IIoT space really are;
how the best-in-the-business are reaping major gains from IIoT;
how certain sectors and certain regions are leading the IIoT race;
which technologies are driving the smart manufacturing revolution;
which major blockers are holding back digital transformation in industry;
how enterprises can define use cases, and select relevant IIoT apps;
how to approach edge computing on the 'shop' floor;
how to buy digital transformation, and calculate an ROI on IIoT projects;
how to choose an IIoT smart-manufacturing platform;
how enterprises can review and rate their digital maturity;
Watch the complimentary editorial webinar featuring:

James Blackman, Editor, Enterprise IoT Insights
Greg Kinsey, Vice President, Hitachi Vantara
Pierce Owen, Pincipal Analyst, ABI Research
Jean-Philippe Provencher, Vice President for Strategy & Solutions, PTC
Srivats Ramaswami, Board Member, MESA International
Joe Speed, Field CTO for IoT Technology & Solutions, ADLINK
Gavin Strack, Executive Director, Convergio
"There are three ways to be smart in manufacturing: to be smart in the process of it (the factories), the business of it (the enterprise), and the produce of it (the goods). This report deals with the first of these definitions, crossing over into the second as business (IT) and operations (OT) systems are more closely aligned," said James Blackman, Editor at Enterprise IoT Insights.
"This categorisation of smart manufacturing reflects the industrial strategies set out variously in Europe, notably under the European Commission's Horizon 2020 scheme, Germany's Industrie 4.0 initiative, and France's Alliance du Futur programme, as well as in markets like China and Japan, as China 2025 and a New Industrial Structure, respectively.
"The point is to have manufacturing processes, which are informed by data, and sparking with insight. This report considers an expansive view of the state of the manufacturing market, at its intersection with technology, and presents ways for manufacturing companies and technology vendors to approach it."
To get a copy of the report, 'Smart manufacturing: asset management, predictive maintenance, dynamic scheduling, and other use cases', click here. To listen to the webinar, click here.
About Enterprise IoT Insights
Enterprise IoT Insights is a premier news source for enterprise decision makers and a leading provider of IoT and digital transformation news and use cases. Launched by RCR Wireless News in 2016, Enterprise IoT Insights keeps readers informed with breaking news, in-depth features and deep industry insight. Enterprise IoT Insights' target audience is executive-level employees at leading enterprise companies, and volume buyers at enterprise-class organizations.
https://www.enterpriseiotinsights.com