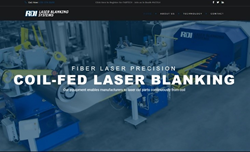 We are excited about our new website launch and the robust information it provides on our latest generation coil-fed laser blanking technology.
ITASCA, Ill. (PRWEB) November 06, 2019
RDI Laser Blanking Systems has launched a new website (rdilaserblanking.com) that highlights their next-generation coil-fed laser blanking technology. The new website showcases the disruptive coil-fed laser technology that is radically changing the way manufacturers produce flat metal blanks. The website shares information about RDI's latest technology update through case studies, videos and equipment photography.
The new RDI Laser Blanking website was developed as a platform to better illustrate the benefits of their next-generation technology and to expand accessibility to the full-scale demonstration line that is on-site at RDI's Itasca, Il headquarters. The website provides quick and easy access to information and will soon include video demonstrations of the unique attributes of the latest technology, plus real-life examples of how it is being applied. "We are excited about our new website launch and the robust information it provides on our latest generation coil-fed laser blanking technology", states Shank Shanmugabaskaran, Senior Vice President, Sales. "The new site really showcases to our customers and visitors what makes this latest technology so innovative and game-changing for their business", explains Shanmugabaskaran. The new website launch follows the recent debut of RDI's next-generation coil-fed laser blanking system to the industry.
Advantages of Coil-Fed Laser Blanking Technology
Coil-fed laser blanking technology continuously makes parts from coil by efficiently unwinding coils, correcting coil defects and laser cutting configured blanks, resulting in continuous production, reduced material and labor costs, plus optimized scrap. These advancements increase levels of productivity, flexibility and quality in the production of metal blanks. This technology combines the proven high-quality of laser blanking with coil-fed efficiency.
Key features of this next-generation of coil-fed laser blanking technology that differentiate it from previous metal blanking solutions include:

Automatically separate parts from scrap
Versatility to process sheets or coils in a range of materials and thicknesses
Zero flashback for high quality on top and bottom of parts
Precision cutting for tighter tolerances
No die related storage, maintenance or build costs
About RDI Laser Blanking Systems
RDI Laser Blanking Systems has been providing coil processing equipment for over 40 years. RDI engineers and manufactures coil-fed laser blanking equipment utilizing on-site resources to provide the greatest control to quality, processes and timelines. RDI helps companies streamline their processes to high quality produce parts more quickly and efficiently. As part of The RDI Group, innovative engineering and technology are at the core of their business. RDI's commitment to continuously explore the latest technologies and components result in machinery and production equipment that provide outstanding value to each customer, from the initial investment through the final commissioning and operation.
RDI Laser Blanking Systems will be exhibiting at the upcoming FABTECH, booth #A3314, taking place at Chicago's McCormick Place Convention Center from November 11 – 14, 2019.