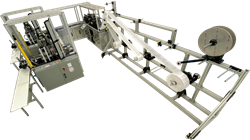 This latest high-speed mask production machine enables our customers to produce masks faster with the reliability and quality that they have come to expect with our machines
ITASCA, Ill. (PRWEB) April 23, 2021
RDI Medical announced today their next generation mask production technology that is capable of high-speed production of up to 200 disposable face masks per minute.
Building upon the overall success of the first-generation machine, this latest generation is up to twice as fast without compromising reliability. This positions the RDI Medical machine as one of the fastest and most reliable machines available for 3-ply disposable mask production.
Numerous design advancements were implemented including independently servo driven feed rolls and welding rolls for improved tension control of the filtration material during the mask forming process. Servo driven nose bridge wire feed system that provides accurate and reliable placement of the nose wire. High speed mask transfer unit for reliable, timely and accurate delivery of formed mask blanks to the ear loop attachment stations. Redesigned ear loop cutoff system that provides accurate and consistently reliable elastic ear loop cutoff during each ear loop attachment cycle, and a completely redesigned, user friendly interface that provides greater control over various production process variables, and provides clear, understandable and timely alerts, warning the operator of any process deviations.
"This latest high-speed mask production machine enables our customers to produce masks faster with the reliability and quality that they have come to expect with our machines," says Curtis Maas, Chairman and CEO of The RDI Group. "Speed and reliability were the primary focus in this development, and we continue to review further opportunities to add more value for our customers."
Additional features of this latest generation face mask production machine include reduced setup and material threading time, reduced operating noise level and additional safety guarding that has been implemented. All providing a safe and comfortable manufacturing environment to work in all day long.
For inquiries regarding the mask production technology, you can reach out to Joe Gajc, VP of Sales: joe.gajc@therdigroup.com 630-274-0656.
About The RDI Group
The RDI Group is a global leader and parent company of Chicago Slitter, Reichel & Drews, RDI Enclosures & Systems, RDI Laser Blanking Systems, and RDI Medical which specializes in the manufacture, design, and sale of industrial grade systems for diverse and worldwide markets. The company offers solutions for asphalt roofing, telecommunications, construction, power, metal coil processing, and medical industries. Respected for reliability, quality, and innovation, The RDI Group has been helping clients improve productivity and profits for over 100 years and is headquartered in Itasca, Illinois. For more information regarding the RDI Group visit their website, https://www.therdigroup.com.