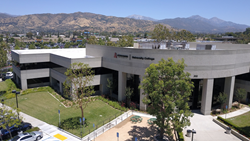 Los Angeles, CA (PRWEB) August 23, 2017
RDS Investments, which primarily focuses on purchasing commercial real estate and customizing the space for its tenants, recently leased 24,000 square feet of office space to Azusa Pacific University. RDS, renowned for providing its tenants customization on the properties it leases, also expanded the space with 11,000 additional square feet for Azusa Pacific, one of the largest Christian universities in the nation.
RDS Investments spent approximately $800,000 to modify the Azusa Pacific space located in San Dimas, CA, which it has owned for twenty years. "RDS customizes each space to our tenant's specification, working with a team of contractors," said RDS Investments Property Manager Shannon Turner, who manages the San Dimas space. "There is a lot of detail involved in making improvements. For Azusa Pacific University, for example, we built onsite classrooms and a large café with a patio to enhance the student experience."
In addition to Azusa Pacific University, RDS Investments signed a multi-year lease on approximately 23,000 square feet of office space to MH Express, one of the largest and most comprehensive workers' compensation lien-based pharmacies in California which sells and ships medications. RDS managed a build out of over $500,000 to improve the space, including the addition of an onsite pharmacy and concrete wall for security, RDS Investments also leased a 52,000-square-foot warehouse to Chinese logistics giant YTO Express, which also signed a multi-year lease. YTO Express services include warehousing, distribution and special transport.
"We are serious buyers of buildings and go above and beyond when leasing them," concluded Turner. "Our tenant-centric platform is flexible to meet the unique needs of each tenant."
RDS Investments' real estate portfolio consists of a variety of buildings from creative office space, high-cubic industrial warehouses and call centers to multi-tenant industrial space, cold storage for perishables and Big Box and small storefront retail. Some of its high-profile tenants include PetSmart, Wells Fargo Bank, DSW Shoes, Guitar Center, Panda Express and Starbucks Coffee.
For more information about available space offered by RDS Investments, please visit http://rdsinvest.com, or call (310) 209-5554.
About RDS Investments
RDS Investments, founded by Robert Shipp in 2000, provides in-house management for over 60 properties and 500 tenants ranging from Fortune 500 companies to small family businesses in California, Nevada and Utah. Focusing primarily on purchasing commercial real estate, Mr. Shipp has acquired several million square feet, both separately and co-owned with other family offices and friends. For more information, please call (310) 209-5554, or visit http://www.rdsinvest.com. RDS Investments is located at 9701 Wilshire Blvd., Suite 1110, Beverly Hills, CA 90212.
About the NALA™
The NALA offers small and medium-sized businesses effective ways to reach customers through new media. As a single-agency source, the NALA helps businesses flourish in their local community. The NALA's mission is to promote a business' relevant and newsworthy events and achievements, both online and through traditional media. The information and content in this article are not in conjunction with the views of the NALA. For media inquiries, please call 805.650.6121, ext. 361.