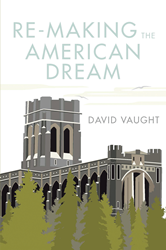 "If a man can go from small town America, to the state halls of government power—with his beliefs and hopes still intact—perhaps his is a story of the American dream come true." —Pacific Book Review
NAPERVILLE, Ill. (PRWEB) April 20, 2020
The American Dream, as defined by James Truslow Adams, alludes to a social order that allows every person to achieve their full potential and be recognized for their authentic self. David Vaught uses this definition to build the foundation for his book, "Re-Making the American Dream," in which he draws from his experiences attending military school and working in politics to provide an understanding of the dynamism of the American Dream and how it can be fully realized.
The son of a World War II veteran and Baptist deacon, Vaught held his father and the principles he fought for both at home and abroad in high regard. He developed a strong belief that freedom of religion is an essential part of freedom of expression, and therefore, the American Dream. However, once he began his own military career at the United States Military Academy at West Point in the 1960s, he discovered that these values were not fully reflected by the institution.
Vaught focuses particularly on the academy's compulsory chapel mandate and how students were pressured into attending Protestant services and giving $3 a month with punishment for noncompliance. Vaught, along with several classmates, challenged this rule on the basis that it violated their Constitutional right to freedom of religion. While Vaught encountered backlash and was pushed to ultimately sacrifice his own military career, he and others were able to lay the essential groundwork for change.
"The challenge to change at West Point, leading to the end of compulsory chapel, was part of the changes experienced in the country at large during the 1960s and thereafter, where basic premises of the power structure and way of doing things were in conflict with the broader basis of the American Dream," said Vaught.
Vaught also reflects on how these experiences motivated him to adopt a career path that would further his work in realizing the American Dream. He attended law school and pursued a career in politics, even taking a leave of absence to work on Governor Dan Walker's reform campaign to combat the corruption in Illinois state politics. There, he came face-to-face with the stronghold the older generation continued to have throughout many levels of government and saw that the American Dream is only possible if people are willing to hold others accountable and fight to allow its survival.
"The fact that Vaught chose to work within the political system, instead of 'dropping out,' the way many of his generation did, is a testament to his belief in the possibility of making America a better country," wrote Dan MacIntosh for Pacific Book Review. "If a man can go from small town America, to the state halls of government power—with his beliefs and hopes still intact—perhaps his is a story of the American dream come true."
Through presenting the American Dream as a dynamic set of ideals that allow freedom of thought and inquiry as well as the freedom to build a better life rather than achieve material advancement, "Re-Making the American Dream" beseeches readers to understand their role in protecting and upholding it so that it may expand to meet the changing needs of new generations.
"Re-Making the American Dream"
By David Vaught
ISBN: 9781728326634 (softcover); 9781728326641 (hardcover); 9781728323091 (electronic)
Available from Amazon, Barnes & Noble and AuthorHouse
About the author
David Vaught is a 1969 graduate of the United States Military Academy at West Point, who took up the challenge to compulsory chapel in his last year as a cadet and twice as a witness in the federal court case that ended it. He later became active in Illinois politics, first supporting the reform campaign of Governor Dan Walker. He later served as Director of the Governor's Office of Management and Budget under Illinois Governor Pat Quinn during the Great Recession. He earned his J.D. from Southern Illinois University School of Law. To learn more, visit re-makingtheamericandream.com.
Review Copies & Interview Requests:
LAVIDGE – Phoenix
Leslie Standridge
480-998-2600 x 586
lstandridge(at)lavidge(dot)com
###