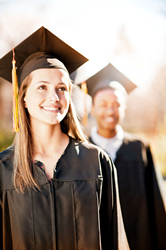 Many graduates in this year's class are actually graduating a full year earlier than they would in traditional education thanks to Reach Cyber's Accelerated Pace program. They are all on the path to achieve amazing things!"
HARRISBURG, Pa. (PRWEB) June 06, 2019
It will be black gowns and gold tassels for more than 260 students in Reach Cyber Charter School's very first graduating class this weekend in Mechanicsburg. The graduation ceremony will take place 6 p.m. Friday, June 7 at the West Shore Evangelical Free Church in Mechanicsburg, Pa.
"We are so proud of our first graduating class of seniors," said Jane Swan, Reach Cyber Charter School CEO. "This group of students are extremely talented and their success is a testament to how much young people can achieve when they are given the right tools and support to fit their unique needs."
Reach Cyber started in 2016 with only a few hundred students through ninth grade and has grown to support more than 3,000 students in kindergarten through 12th grade.
"It's hard to believe that our first group of seniors are graduating," explained Rachel Parker, Director of Counseling Services for Reach Cyber. "It has been a pleasure to watch this eager group of students grow as they worked toward earning their diplomas. Many graduates in this year's class are actually graduating a full year earlier than they would in traditional education thanks to Reach Cyber's Accelerated Pace program. They are all on the path to achieve amazing things!"
The 2019 Connections Academy graduating class represents a diverse group of students. Some come from single-parent households, others from large families. They live in the inner city, the suburbs and the most remote parts of Pennsylvania. With more than 260 graduates, Reach Cyber has hundreds of standout students and some of those include:

Aaron Redis from Bloomsburg, Pa.: Graduating a year early from high school due to Reach Cyber's flexible pacing options, Redis is the online school's first Valedictorian. In addition to collecting several accolades for his academics, Redis is president and founding member of Reach Cyber's Gender and Sexuality Alliance (GSA) Club. A student-run club that strives to create a supportive and safe social gathering for all Reach Cyber students, GSA's goal is to celebrate the diversity among the LGTBQ+ community and to contribute awareness and education. Post-graduation, Redis will be heading to Florida to attend nursing school.
Zion Spearman, Philadelphia, Pa.: Spearman, a standout baseball player from Philadelphia who first garnered attention during his team's 2014 Little League World Series experience, has an exciting end to his high school career. During graduation week, Spearman will be entering the MLB Draft (June 3-5) and on that Friday (June 7) receiving his high school diploma. Depending on the draft outcome, Spearman will either play Major League Baseball or attend the University of Pittsburgh on a full athletic scholarship where he plans to study engineering.
Sam Schmidthuber, Morgantown, Pa.: A country singer and songwriter, Schmidthuber has highly enjoyed his Reach Cyber experience. With this flexible approach to learning, Schmidthuber was able to continue his education while traveling on the road as a performer to headline concerts, festivals and shows. After graduation, Schmidthuber plans on continuing to pursue his music career and playing gigs.
The high school program covers a wide range of courses to provide a solid foundation for whatever path graduates choose, attending college or starting a career, through numerous in and out of classroom professional development opportunities.
Enrollment for Reach Cyber Charter School's 2019-2020 school year is currently underway. To learn more go to http://www.ReachCyberCharter.com or call (800)382-6010.
ABOUT REACH CYBER CHARTER SCHOOL
Reach Cyber Charter School is Pennsylvania's newest statewide, tuition-free, online public charter school for students in grades K-12. Reach Cyber, a Pennsylvania Connections Academy, provides students with the flexibility to learn from anywhere there is an Internet connection and with an innovative, online school curriculum that meets rigorous state education standards. The combination of certified Pennsylvania-based teachers, an award-winning curriculum, engaging electives, technology tools, and social experiences provides a supportive online learning opportunity for students who want an individualized approach to education. Reach Cyber incorporates 21st century learning and STEM-enrichment opportunities, as well as flexible pacing options that allow students to choose from a traditional calendar option, year-round option, or for high school students, an accelerated schedule. For more information, call 800-382-6010 or visit http://www.ReachCyberCharter.com.