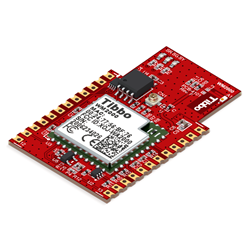 The WM2000 makes wireless implementation straightforward, and is equally at home on Amazon Web Services (AWS), Google Cloud, Microsoft Azure, and other platforms.
TAIPEI, Taiwan (PRWEB) December 01, 2020
Tibbo Technology, Inc. today announced the release of the WM2000, an embedded module designed to provide wireless connectivity for IIoT, industrial automation, and security devices. This cloud-native system on a module incorporates Wi-Fi (802.11a/b/g/n over 2.4/5GHz) and BLE4.2. The module also features two high-speed serial ports, multiple software I²C/SPI channels, onboard flash and EEPROM storage, and 10 GPIO lines. Nine lines can be configured as PWM outputs.
"Our mission is to provide the hardware and software that simplifies and speeds up the creation of IoT devices," said Dmitry Slepov, co-founder and managing director of Tibbo. "The WM2000 makes wireless implementation straightforward, and is equally at home on Amazon Web Services (AWS), Google Cloud, Microsoft Azure, and other platforms."
Cutting the Cord, Securely
Engineered from the start to connect to popular cloud platforms, the WM2000 implements TLS1.2 with a 2,048-byte RSA cryptosystem. Unlike competitors' "low-cost" offerings that bait users into selecting specific cloud service providers, the WM2000 is fully vendor-agnostic and comes with no strings attached.
The WM2000 features a simplified Wi-Fi API to facilitate automatic association with a designated wireless network. Set the target network's SSID and password, enable "autoconnect," and the module will automatically connect to the target Wi-Fi network and remain associated when in range. It is as easy as plugging an Ethernet cable into "wired-first" Tibbo products.
Thanks to a compact footprint and a low-power "sleep" mode, the module can easily be integrated into small devices designed to operate on battery power in remote locations.
Dual Apps Simplify Configuration and Operation
The WM2000 is the first Tibbo device that can store up to two compiled application binaries. Earlier Tibbo products stored a single app that could take up all of the flash space not occupied by system files. The WM2000 — which has at least four times the flash storage of any predecessor — enables users to store a second app in the remaining flash space. This ability to store two apps can be used to separate device management, such as basic configuration and cloud firmware updates, from your product's business logic.
Comprehensive Toolkit Accelerates Development
Since a programmable device is only as useful as its software, Tibbo supplies a complete suite of tools to streamline the development of sophisticated IoT applications. Starting a low-code project takes only a few minutes with CODY, Tibbo's online code wizard that walks the user through a few simple screens and generates a working project template.
After the project's skeleton is generated by CODY, the development shifts to Tibbo IDE (TIDE), a powerful yet refreshingly simple to use editor/debugger packing every tool necessary to complete the project. Applications are developed in Tibbo BASIC and Tibbo C, Tibbo's take on the venerable programming languages that are easy to learn and perfect for developing IIoT, security, and industrial automation solutions. Tibbo's programmable devices run Tibbo OS (TiOS), a compact, highly reliable operating system that completely sandboxes user applications.
Procurement and Support
Customers can order the WM2000 through Tibbo's extensive partner network, which includes distributors, value-added resellers, and systems integrators from more than 50 countries. The module is also available directly from Tibbo's web store.
About Tibbo
Based in Taipei, Tibbo Technology, Inc. is a leading provider of IoT and industrial automation devices. Tibbo's product range includes embedded IIoT modules and programmable boards, serial-over-IP products (device servers), and the Tibbo Project System (TPS), a modular automation platform. All Tibbo products are backed by dedicated support staff and field application engineers.