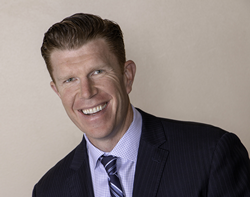 "The missing piece in sports advertising has always been how to engage people with both the games and the advertising partners," Birk said. "Super Squares® addresses these challenges for live and even repeat broadcasts and ePro games."
TAMPA, Fla. (PRWEB) April 10, 2020
With live sports around the world on hold, and billions of dollars in potential sports advertising waiting, one advertising technology start-up is hiring legendary sports business talent and is building new ways to engage audiences sitting bored at home.
This week, React LLC ("React"), the creator of sports engagement game Super Squares®, announced the hiring of Matt Birk, former NFL Director of Football Development, Harvard University lineman, and player with the Minnesota Vikings and Baltimore Ravens. Birk will serve as Commissioner of Sports, overseeing React's outreach and negotiations with leagues and networks in North America. He will also provide React's fan engagement teams with expertise drawn from Birk's recent foray into eSports and related video gaming culture. (Note: The ePro Sports moniker relates to traditional sports played via video games.)
The multi-patented Super Squares app was already poised to support football and hockey in 2020, but React is now exploring adding basketball, baseball, racing and soccer on an expedited basis. Recently awarded U.S. and pending international patents also allow for a skill-based "fantasy" version, in the works for late 2020.
Super Squares® is positioned as a "modern twist" on the popular "squares" or "box" games played by tens of millions of fans during mass viewing events like the Super Bowl®. The live, free-to-play score-matching quiz show enables millions of fans to sync to real time sports broadcasts of all types (even replays and eSport versions) and awards cash and prizes ranging from gift cards to new cars. During breaks in real-time broadcasts of any kind, Super Squares players earn points for successfully answering questions about both the game and the commercials that play on their smart phones (or TV, when integrated with broadcasters). Players earn bonus points when their "Super Square" – a set of four score combinations - match one or both team's stats at the end of a period of play.
"Live sports were already in the middle of immense disruption before this virus, with the proliferation of second screens, streaming services, sports betting, the popularity of eSports, and more," said Frank Maggio, Chief Executive Officer of React LLC. "Amid these quarantines, it's more important than ever to provide solutions that immediately help the leagues and brands, and to build new ways for networks to engage fans. Our current and upcoming free and wagering apps inject much-needed adrenaline back into sports, and rewards fans for being immersed in real-time sports – and that includes repeat games."
Maggio said Birk's experience as both a player and NFL executive makes him the absolute best person to be the company's first Commissioner, and to help reactivate fans everywhere. Birk's most recent experience extends across the markets of video gaming, celebrity, and pop culture. "The missing piece in sports advertising has always been how to engage people with both the games and the advertising partners. Lots of fans get distracted during commercial breaks or when they fast-forward a recorded game," Birk said. "Super Squares® addresses these challenges for live and even repeat broadcasts and ePro games. I believe the leagues and sports networks will embrace React's vision and real-time engagement now, more than ever. The future of sports technology and gaming is yet to be written, and with what I know is coming next, we have the platform and IP to set tomorrow's standards."
React ran successful Tampa Bay beta tests of the Super Squares platform in 2018, and developed Version 2.0 for hosting on the Google Cloud Platform. The app scales to over 5 million simultaneous players. Privately held, React is now completing its third round of fundraising to expand and market the platform to sports leagues, advertising brands, and fans. In the coming weeks and months, React will be announcing a series of new products, and new hires from across the sports and entertainment industries.
About React
Founded by adtech and media measurement maverick Frank Maggio, React LLC is an experiential advertising technology and entertainment company that thinks of "advertising as a sport™." By adrenalizing advertising™, React excites audiences with rewarding, branded two-screen experiences during the most viewed and attended sporting and media events in the world. Super Squares® is React's first reactive product to exploit its multi-patent and trademark IP portfolio. The company's commitment to "respect, protect, and reward consumers when they pay attention" honors user privacy by never selling or sharing personally identifiable information. Details about React can be found at http://www.react.net, and information on the Super Squares app and upcoming events are available at http://www.SuperSquares.com.