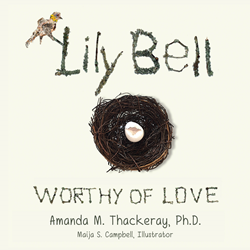 "Lily Bell now knew deep inside her heart that she was created for an important purpose and there was a special plan for her life. By overcoming her own struggles and fears, she could help others overcome. Through love and kindness, the weak hearted could be made strong and the lost could be found."
LOS ANGELES (PRWEB) November 22, 2019
Lily Bell: Worthy of Love by Amanda M. Thackeray, Ph.D., tells of the adventures of Lily Bell, a frail yet brave dove who was born with broken wings and legs. Because of her disability, she needed the help of her parents. Lily Bell was different, so other animals often ignored her or did not include her. Making friends was difficult, but despite hurt, Lily Bell never stopped dreaming of being able to stretch her wings, travel to distant lands, and make friends.
Her life was forever changed one night when she met two raccoons Bubba and Wiley, who were foraging through the forest. They were brothers that depended on each other in order to survive: one had trouble communicating because of his stutter, and the other was blind and needed his brother to be his eyes. They saw the beauty in Lily Bell and offered to help her journey through the forest with Lily Bell traveling on their backs in order to help her fulfill her dream. It felt good to help.
The author shows the readers that even though we often feel alone in this world, there are those who will treat us kindly—the same way the raccoon brothers and Silas, the turtle with the cracked shell, treated Lily Bell as their friend and equal. The author teaches us that with love and kindness from God as well as our friends and family, we discover our worth and believe we are beautifully and wonderfully made.
The latter part of the story recounts Lily Bell's encounter with the venomous viper, Lucinda. Like the protagonist, we face adversity from different sources like bullies and mean-spirited people whose words try to reach into our hearts and plant seeds of doubt and inferiority. If we allow them, our hearts can turn from love to stone. However, with the help from others, and truth spoken in love, we can overcome what was meant for harm and use it as an opportunity for good and grow stronger.
"It is true our bodies are broken, our eyes blinded, and our tongues tied, but our hearts can love deeply, our eyes can see true beauty, our words can speak kindly, and our bodies can carry the burdens of others. We ARE worthy, Lucinda, worthy of love."
With the hostility of the viper worsening, Lily Bell found herself in grave danger, but she was suddenly saved by Scout, the faithful hunting dog of his master who lived in a log cabin in the forest. The manner by which she was saved and cared for by the master could be the author talking about God rescuing us from our enemies and loving us unconditionally. After Lily Bell found comfort and rest in the master's hands, she felt stronger and safe. At the right time, the master and Scout returned Lily Bell to her nest where her parents awaited. Lily Bell having grown from her journey, developed a stronger sense of self-worth and purpose, as well as found renewed hope for the future.
"Lily Bell now knew deep inside her heart that she was created for an important purpose and there was a special plan for her life. By overcoming her own struggles and fears, she could help others overcome. Through love and kindness, the weak hearted could be made strong and the lost could be found. This gave Lily Bell hope for the future."