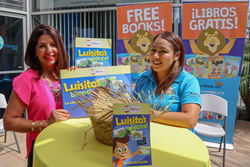 "I was born and raised in Puerto Rico. I wanted to do something to honor the island, especially after Hurricane Maria. So, it is my love letter or my tribute to my little island," said Maritere R. Bellas.
MIAMI (PRWEB) September 20, 2018
Read Conmigo, the national, award-winning bilingual literacy program sponsored by Infinity Auto Insurance, today released their newest book, Luisito's Island, in honor of Hispanic Heritage Month. Read Conmigo will celebrate the release by holding bilingual literacy reading tours in Miami and Los Angeles featuring specially planned activities, live performances, and special guest appearances. Hispanic Heritage Month is nationally recognized and serves to honor and celebrate the Hispanic community's culture and rich history.
Luisito's Island, written by award-winning Latina author and Puerto Rico native Maritere R. Bellas, describes the journey of a young school boy adjusting to his new home after Hurricane Maria, the storm that devastated Puerto Rico and displaced over 200,000 Puerto Ricans, will be the showcased book throughout the reading tour. Download a free copy today at readconmigo.org
Reading tour details include:
Miami, FL

Saturday, September 29, 1:00-3:00 p.m.- Southland Mall
Saturday, October 6, 1:00-3:00 p.m. - Sprint Store - 2520 SW 22nd Street Miami, FL 33145
Saturday, October 13, 1:00-3:00 p.m. - Sprint Store - 1001 W 49TH ST BAY 66A Hialeah, FL 33012
Los Angeles, CA

Sunday, September 30, 9:30-4:00 p.m. - Orange County Children's Book Festival at Orange Coast College
Saturday, October 13, 10:00-2:00 p.m. – Fall Into Literacy Festival at The Banning Museum
"Hispanic Heritage Month is a time that we hold in very high regard at Infinity," said Glen Godwin, CEO of Infinity Insurance. "The Hispanic community represents a variety of rich countries, cultures, and traditions. We consider it an honor to give back to this community through our Read Conmigo program that has awarded more than one million free bilingual books nationwide."
For more information on the book and the Read Conmigo bilingual program, visit http://www.ReadConmigo.org or follow @ReadConmigo on Facebook, Twitter, or Instagram.
About Read Conmigo
Infinity Auto Insurance is driven to serve others. Read Conmigo represents one of Infinity's largest investments in the community. By providing parents with bilingual storybooks, apps, and online resources, Read Conmigo bridges the gap for many Hispanic parents who hesitate to read to their children in English or Spanish due to language barriers. The program has already distributed more than 1,000,000 free books to classrooms and Hispanic families and receives support from more than 14,000 educators. The campaign also creates opportunities for new Hispanic authors and illustrators. For more information: http://www.readconmigo.org
About Infinity Insurance
Infinity Insurance is a national provider of automobile insurance with a concentration in nonstandard auto insurance. Its products are offered through a network of approximately 10,800 independent agencies and brokers. For more information about Infinity, please visit http://www.infinityauto.com. Infinity is part of the Kemper family of companies.