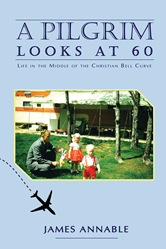 "Mere (head) knowledge can lead to a kind of intellectual arrogance. Acquiring information becomes an end in itself instead of the transformative means to a changed and repentant heart…Belief must be turned into action, and it is in those critical moments that transformation takes place."
WASHINGTON (PRWEB) January 14, 2020
A Pilgrim Looks at 60 chronicles James Annable's life as he engages in lifelong introspection as an average (or "bell-curve") man. He shares that a person's origins and experiences shape who they are, and while leading a simple life may make most feel unaccomplished, their encounters with others can prove otherwise. A man's life story is only one of the billions, and every interaction between people is only a small part of something bigger as planned by the Lord's in His divine narrative.
The process of embracing Christianity and enlightenment is not instant and must be pursued continuously. Aside from having to be "born again," this process involves going back to one's human origins. It is much like the Bible—beginning with one's birth in Genesis until Revelations—where man sees the power of God. The moments between a person's beginning and end act as their learning experiences, where the places they visit and people they meet will shape who they are as planned by the Almighty Father.
"Looking back over the years, I realize the importance of embracing a purposeful direction, as well as the value of the relationships, friendships, and community that helped define and make this journey meaningful," James Annable writes as he shares that every life has a purpose and every connection is meaningful. God usually places people in others' lives of others as part of His plan, which only He knows, in which His children should trust. "Time is becoming more precious as I get older. The things I value have changed. Even failure is more appreciated for the lessons learned."
James Annable shares how modern men's mistakes mirror that of biblical characters. From Adam chiding Eve instead of being a good husband, to David's adultery, no man is perfect and have moments of weakness. Like these figures, modern sinners look to others to emulate, particularly fellow men who managed to overcome their own struggles despite their unassuming characteristics and humble appearances. He encourages his readers to seek the extraordinary in what others often view as insignificant.
Other ways to learn from the errors of people from the past is to know the reasoning behind their mistakes and prepare to make tough decisions. However, the author reminds readers of the risks that come with taking a path of pure knowledge without applying heart (intellect without compassion). "The Bible warns us that mere (head) knowledge can lead to a kind of intellectual arrogance. Acquiring information becomes an end in itself instead of the transformative means to a changed and repentant heart…. Somewhere along the trajectory of this journey, belief must be turned into action, and it is in those critical moments that transformation takes place."