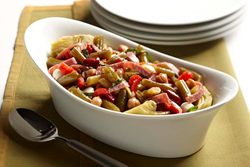 "For decades, families have relied on the delicious, consistent taste of READ Salads that can be enjoyed right out of the can or as part of a variety of fabulous recipes like the ones you'll see on Instagram."
MARION, N.Y. (PRWEB) February 21, 2019
Between work, the kids' extra activities, health club and everything else, some days there just isn't time to make a great tasting meal. . . or so it may seem. Not so, according to READ Salads. The ready-to-eat salad brand is inviting food enthusiasts and influencers during the month of February to create and share quick and easy "Can Opener" recipes featuring one of its tasty and convenient canned salads.
"No matter what your profession or family status is, we're ALL stretched for time these days. But thanks to the resourcefulness of a select group of Instagram influencers, we're demonstrating that really great dishes can be whipped up quickly with the use of a few convenient ingredients," said Julia Storie, READ Salads Marketing Administrator. "For decades, families have relied on the delicious, consistent taste of READ Salads that can be enjoyed right out of the can or as part of a variety of fabulous recipes like the ones you'll see on Instagram."
Available in three varieties — 3 Bean Salad, 4 Bean Salad, and German Potato Salad, these salads are delicious as a standalone item but can be easily used in the kitchen in many ways, as participants will show in their "Can Opener" recipes. Influencers will create a quick and tasty recipe that can be ready in under 30 minutes that highlights their favorite READ Salad product and convenience items found at the supermarket, such as rotisserie chicken, prechopped vegetables, and other canned or frozen foods.
These Can Opener recipes will cater to families and individuals with busy lifestyles who still want to eat well and enjoy a homemade meal, without a major time commitment or fuss. Just search for #READSalads and/or #READSaladsCanOpeners on Instagram throughout February to see all the creative recipes.
READ Salads, owned by Seneca Foods, has been a pantry staple for generations, featuring tasty, convenient and versatile ready-to-eat products packaged in cans or single-serve cups — 3 Bean Salad, and 4 Bean Salad and German Potato Salad. All of READ's products are gluten-free and contain important nutrients such as fiber, folate and plant-based protein.
Here's a sample of the kind of convenient and delicious recipe to expect from the READ Can Openers.
ANTIPASTO BEAN SALAD
1 can (15 ounces) READ 3 or 4 Bean Salad
¼ cup thin strips roasted red bell pepper
½ cup fresh mozzarella or provolone cheese pieces (about ½-inch pieces)
1 cup chopped artichoke hearts (canned or frozen; thaw if frozen)
¼ cup thin strips salami or pepperoni
2 tablespoons chopped fresh basil
Dressing:
¼ cup reserved bean liquid
2 tablespoons olive oil
1 clove garlic, minced
2 tablespoons chopped fresh herbs, optional*
*Parsley, basil, thyme or other favorite herbs can be used.
1. Drain bean salad; reserve 1/4 cup liquid.
2. For dressing, combine reserved bean salad liquid, oil and garlic; whisk until combined. Add fresh herbs, if desired.
3. In large bowl, toss together drained bean salad, roasted bell peppers, cheese, salami and fresh basil. Toss with dressing. Serve at room temperature or chilled.
Makes 4 servings
Nutrition information (1/4 of recipe): 250 calories; 8 g protein; 16 g carbohydrate; 16 g fat; 870 mg sodium; 25 mg cholesterol; 3 g dietary fiber; 1 mg iron; 0 mg thiamin; 1010 IU vitamin A; 21 mg vitamin C.