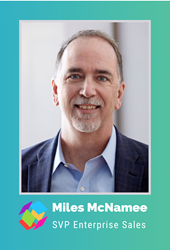 We are excited to have Miles join the ReadCube team to lead our continued investment into the biotech and pharmaceutical markets
BOSTON (PRWEB) July 02, 2020
Innovative R&D software developer, ReadCube is very pleased to announce that STM sales veteran, Miles McNamee joins as ReadCube's Senior Vice President of Enterprise Sales. Miles brings more than 20 years of leadership experience in building high-performing sales teams, strategic planning, and driving revenue growth at companies such as Highwire, Copyright Clearance Center, and Liberty Media.
"ReadCube is known across the industry as an innovator, developing smart researcher-centric technologies to transform the way researchers (and their organizations) work with scholarly literature," says McNamee, SVP of Enterprise Sales, ReadCube. "I am thrilled to be joining such a dynamic team and look forward to sharing my vast experience to continue to drive sales."
"We are excited to have Miles join the ReadCube team to lead our continued investment into the biotech and pharmaceutical markets," said Alex Hodgson, CCO of ReadCube. "His depth of industry and sales leadership experience, coupled with his passion for innovation, makes him a perfect fit to lead this pivotal phase of ReadCube's expansion. We are looking forward to him driving sales efforts to new heights."
About ReadCube:
ReadCube develops software to make the world of research more accessible and connected - serving researchers, publishers, academic and commercial organizations. ReadCube Papers' newly launched web, desktop, and mobile reference management apps, dramatically help millions of researchers find, organize, read, share, cite, and access research literature.
ReadCube is supported by Digital Science, a technology business unit wholly owned by global media company, the Holtzbrinck Publishing Group. It offers a range of scientific technology and data solutions, from intelligent knowledge discovery tools to software applications for the laboratory and decision support systems for managers. For more information, visit readcube.com | @readcube and digital-science.com | @digitalsci