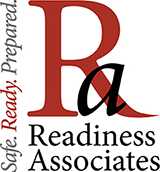 "Cliff's impressive academic background and diverse career accomplishments makes him the ideal choice as our company's resident finance expert." Michael J. Boardman, CEO
PORTLAND, Maine (PRWEB) May 13, 2021
Readiness Associates (RA), a Portland, Maine-based full-service emergency preparedness and business continuity solutions provider, today announces Hawaii-based Cliff Chen as the newest member of its Advisory Board. Mr. Chen is a multidisciplinary executive who has guided companies across several industries through critical stages of growth. Most recently, he served as Chief Financial Officer of Martin Defense Group, an engineering research and development contractor providing services to the US government. Mr. Chen has also held executive positions with Hawaiian Electric Industries, Inc., UBS Financial Services, and Bank of America Merrill Lynch. He began his career at Wilson Sonsini Goodrich & Rosario, working with venture backed startups as well as mature technology companies. Mr. Chen earned a Master of Business Administration degree from the University of Chicago Booth School of Business, a law degree from the University of Michigan Law School, and a Bachelor of Arts degree from Harvard College.
RA's recently formed Advisory Board unites executives from diverse business backgrounds and life experiences who contribute their knowledge and network relationships in support of the company's mission to help organizations prepare for and overcome any threat, natural or man-caused.
"I've worked with hundreds of successful business leaders throughout my career, and all share a common trait," stated Mr. Chen. "Each had not just the foresight to prepare for the range of potential crises impacting their organization, but the fortitude to not go it alone. I'm honored to join the Readiness Associates Advisory Board and look forward to helping them become the trusted preparedness partner executives truly need right now."
"Cliff was one of the first potential advisors I contacted back in December 2020," said Michael J. Boardman, CEO. "Cliff's impressive academic background and diverse career accomplishments makes him the ideal choice as our company's resident finance expert."
About Readiness Associates
Readiness Associates (RA) enables leaders from all types of organizations to confidently assess and overcome critical threats with customized emergency preparedness and business continuity planning. Our comprehensive ReadySuite(TM) of onsite and virtual solutions empowers our partners to weather any adversity, natural or manmade, by fortifying their entire organizations in key areas that include cloud-based response planning and pandemic wellness tracking; compliance and regulatory audit planning; crisis communications; cyber-security training; and more. Visit us online at: http://www.readinessassociates.com.