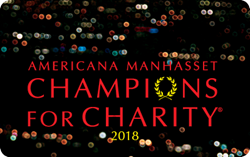 Having all of our stores join together in this collaborative way shows our commitment to making a difference for our clients and community. It's a magical time of year.
MANHASSET, N.Y. (PRWEB) November 15, 2018
This is the 22nd year of a win-win, philanthropic, and collaborative event between Americana Manhasset's shops and their patrons. To date, this event has raised over $12 million dollars for both local and national charities since its inception in 1996.
"I am proud of my partnership with Americana Manhasset and Champions for Charity®. The generosity of the shopping center and their tenants is unparalleled. Where else can you shop the finest stores at the perfect gift-giving time of year and receive a 25% pre-tax donation to the charity of your choice from a list of over 130 not-for-profit participating organizations?" notes client, philanthropist, and The Bone Marrow Foundation founder Christina Merrill. "This is just unbelievably generous. Champions for Charity® has become the unofficial kick-off for the holiday season for so many charities. My charity of choice, and so many other organizations have benefited tremendously from participating in this event."
During the four-day shopping extravaganza, festive holiday lights twinkle, and shoppers enjoy special in-store events. On November 29, Anne Fontaine will visit her boutique to toast the season in support of Child Abuse Prevention Services and the Veronica Beard co-founders (and sisters-in-law) will visit their namesake store in support of Kat's Ribbon of Hope and Long Island Children's Museum. Hermès will host a bevy of charities throughout the weekend, including the Tower Foundation, UJA Federation of New York, Friends Academy Diversity Grant Fund and Gift of Life. Other notable Americana boutique partnerships include Fendi with MedShare, Dior with Elija Farm CSA, Michael Kors with Crohn's and Colitis Foundation of America, and Rag & Bone with Sunrise Day Camp and Grenville Baker Boys and Girls Club. Tilles Center for the Performing Arts will provide beautiful music at Tiffany and Co., while London Jewelers goes to the dogs – literally! The multi-generational, family-run jeweler will host several animal rescue charities in addition to Hospice Care Network, Smile Train, The Viscardi Center and Long Island Tourette Association.
To participate in Champions for Charity®, simply register for your complimentary Champion Number online at championsforcharity.org (including on your mobile device), by phone at 800.818.6767, or in person at Americana's Concierge. Present your Champion Number from November 29 through December 2 at the time of each purchase, and 25% of your designated full-price, pre-tax purchases will be donated to the participating organization(s) of your choice. It's that easy!
Taking an active role in the community has always been an integral part of Castagna Realty Retail Group's mission. Americana Manhasset was one of the first shopping destinations to embrace the concept of charity shopping and remains a leader by offering a significant 25% pre-tax donation to charity. "Celebrating our 22nd year, Champions for Charity® is our signature holiday event that brings our community together," says Deirdre Costa Major, President, Castagna Realty Retail Group. "Having all of our stores join together in this collaborative way shows our commitment to making a difference for our clients and community. It's a magical time of year."
All Americana Manhasset stores and select Wheatley Plaza stores participate in Champions for Charity®. Located 17 miles east of Manhattan, Americana is home to over 60 leading fashion and lifestyle stores including Hermès, Chanel, Louis Vuitton, Hirshleifers, London Jewelers, Gucci, Dior, Bottega Veneta, Prada, Rolex, Ralph Lauren, Cartier, Fendi, Tiffany & Co., Salvatore Ferragamo, Christian Louboutin, Céline, Max Mara, Veronica Beard, Tory Burch, Michael Kors Collection, Burberry, Wolford and more.
For information on Americana Manhasset and Champions for Charity®, visit americanamanhasset.com or championsforcharity.org, like our Facebook page, and follow us on Twitter and Instagram @AmericanaShops.