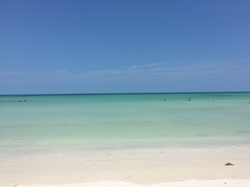 "On election night, traffic to International Living's 'move out of the U.S.' pages spiked nearly 300% (on top of the 1,600% increase in search traffic we've tracked since the end of May). Suffice it to say: People are looking for an escape"
BALTIMORE (PRWEB) November 05, 2020
"On election night, traffic to International Living's 'move out of the U.S.' pages spiked nearly 300% (on top of the 1,600% increase in search traffic we've tracked since the end of May). Suffice it to say: People are looking for an escape," says Jennifer Stevens, Executive Editor, International Living.
"Google reports an increase in people searching for move-to-Canada information—but what many people don't realize is that it's relatively tough to move there. By contrast, you'll find all kinds of easier, sunnier, lower-cost options when you look south.
"The idea of moving to Canada is a knee-jerk response for a lot of people who are feeling frustrated right now. But there are better solutions—places where U.S. dollars will stretch, where the pace is slower, the weather is warm year-round, and moving is more straightforward from an immigration standpoint, too."
International Living's editors have highlighted countries that make good sense to consider from the perspective of value, ease of settling in, quality of life, and proximity to the States: Costa Rica, Belize and Mexico. Plus, all are places Americans can, in fact, travel to right now—for those who can't wait to check out their options in person.
A perennial front-runner in International Living's Annual Global Retirement Index, Costa Rica's political stability and low-key profile are proving to be increasingly strong draws for expats—International Living saw a 107% increase in traffic to its Costa Rica content from November 1-4, 2020.
Although just the size of West Virginia, the country has two major international airports, typically with daily flights on every North American airline from major gateway cities. With that ease of travel, it is convenient to get back home for special occasions or easily receive visitors.
Ticos (the moniker Costa Ricans give themselves) have established one of the world's most stable democracies. The country dissolved its standing army in 1949 and the reallocated funds are spent on education, healthcare, and pensions instead of the military.
"Costa Rica consistently remains a favorite overseas destination for those seeking a tranquil, healthy, and secure lifestyle," says Kathleen Evans, IL Costa Rica Correspondent who is based in Tamarindo, Costa Rica.
"Benefits such as temperate, tropical weather, breathtaking natural beauty, a short flight to the U.S., and a lower cost of living make this Central American gem a mighty contender for retirees and digital nomads from around the globe.
"The national healthcare system covers every citizen and legal foreign resident, without exceptions, and everyone has the option of using an excellent private system with prices at a fraction (25-75% less) of the medical costs in the U.S. Forward-thinking, the government embraces green initiatives, legalized same-sex marriage in 2020, and rejects all forms of racism and discrimination. For these reasons and many more, it is no surprise pura vida or pure life is a phase deeply woven into the culture."
English is taught in schools in Costa Rica from a young age, so while it's helpful to know Spanish, lots of expats get by on just the basics, as most locals speak some English—and in tourist towns, there's a lot spoken. With plenty of well-established expat communities, Costa Rica is a relatively easy place for Americans to settle in.
Tourists can stay for up to 90 days on a tourist visa, and longer stays are easy enough to arrange. If you plan to live in Costa Rica long term it is best to seek residence—The Pensionado Program and The Rentista Program are more popular visa options.
A couple a can live well in Costa Rica's cooler-weather Central Valley in a town like Atenas, for instance, from $1,518 a month. At 698 meters above sea level, Atenas boasts the "best climate in the world," a slogan that is printed on local buses and signs. Compared to hotter beach communities and cloudier, much cooler towns, Atenas has become a popular spot for foreigners to relocate.
Recent figures released by the International Living data-analytics team reveal a 70% increase in traffic to IL's Belize content from November 1-4, 2020.
There are good reasons for the growth of the retirement haven's popularity, one being its language. As a British Commonwealth country, English is the primary language (both on the mainland and islands), making it easy for expats to settle in. In fact, Belize is the only country in Central America with English as its main language.
Belize is a pretty straightforward move. U.S. currency is accepted (pegged to the Belizean dollar), credit cards are widely used, and well-known U.S. brands are available too; they're expensive, but substitutes are easy to find.
"The Belizean culture, I found, is somewhat like the Midwest culture that I came from," says Laura Diffendal, IL Belize Correspondent, who moved to Belize in 2014 from Cleveland, Ohio.
"There's a lot of value placed on hard work, modesty, grit, resilience, and leaving things better than you found them. I spend most of my time right now on the island of Ambergris Caye, which is known as the very fun, energetic 'Jimmy Buffett Island.' And I also spend time in Placencia, which is sort of a quieter, bohemian place, much calmer and much less crowded, a lot more like tranquil, with long, open beaches."
Belize requires visitors to have sufficient funds to support themselves, a return ticket, and a passport valid for at least three months beyond the date of arrival. Citizena of the U.S. or Canada can stay in Belize for up to one month without a visa. To stay longer requires a trip to the Immigration office for an updated visitor's permit or tourist stamp. Travelers who show proof of long-term renting or other documents showing a reason for an extended stay can be granted a 60-day or a 90-day permit.
Many expats apply for permanent residence in Belize. The primary reason is that as a resident you can work in Belize without needing a work permit. Having residence also makes it easy to travel in and out of the country.
A person must live in Belize for 50 consecutive weeks before he or she can apply for permanent residence. Doing this requires entering the country on a tourist visa and then renewing that visa every 30 days until the 50-week point, when it's possible to submit an application for permanent residence. It can take a few years to receive approval and a residence card.
More expats flock to the Caribbean island of Ambergris Caye than to any other region of Belize. Beyond its natural beauty and outdoor activities, this island offers Belize's most sophisticated lifestyle. Combining a casual beach life with upscale amenities, it's no wonder Ambergris has become so popular.
A couple can enjoy a comfortable retirement in Ambergris Caye, including rent, for between $2,700 and $2,900 per month (housing included). Expats who own homes on the island report it's possible for a couple to live quite comfortably (minus rent) on less than $2,000 a month.
There are 1 million+ Americans living in Mexico full or part time. They enjoy a vibrant culture, friendly people, lower cost of living, high quality/low cost healthcare, large and welcoming expat communities, great weather year-round… and destinations ranging from funky beach towns to resort hotspots to world-class cities to colonial gems.
And the country is proving its popularity among visitors to International Living's website, which saw a 52% increase in traffic to its Mexico content from November 1-4, 2020.
Tourists/visitors can legally remain in Mexico, holding only a valid passport, for 180 days and must then leave. This generous policy allows large numbers of snowbirds to escape frigid winters north of the border and spend months in the warmth of Mexico.
"Many Americans have been to Mexico on vacation, but most don't realize that you can enjoy the good life for less south of the border full-time," says Jason Holland, IL Roving Latin America editor, based in San Miguel de Allende.
"Vibrant cultural traditions, amazing food, friendly people, large and active expat communities, modern conveniences, high-quality healthcare at a low cost, great weather, and more await those who make the move. Whether you want to live at the beach, in a colonial town, in a big city, in the countryside, or in a small village...you can find your place in Mexico."
Although Spanish is the official language, with so many expats choosing Mexico, there are pockets dotted all around the country where it's easy to fit in speaking English—just like San Miguel de Allende where Holland lives with his family.
San Miguel—a four-hour drive northwest of the capital, Mexico City—has been a firm favorite for expats. Located in the Colonial Highlands region, it offers a lot of benefits: temperate climate, low cost of living, an active expat community, welcoming locals, charming local cultural traditions, and a focus on the arts. Its colonial centro is a UNESCO World Heritage site.
American Capital of Culture 2019, San Miguel de Allende has been attracting American retirees since the late 1930s—expats make up about 10% of the 125,000 residents in the wider metro area. Typically, the population swells during the North American winter, when Canadian, American, and European ßsnowbirds flock to town for the great climate. Here a couple can live well on a budget of $1,660 a month.
Details on the necessary steps to move out of the U.S. can be found here: How to Move Out of the U.S. Members of the media have permission to republish the article linked above once credit is given to Internationalliving.com
Further information, as well as interviews with our experts for radio, TV or print, are available on request. Photos are also available.
For information about InternationalLiving.com content republishing, source material or to book an interview with one of our experts, contact PR Managing Editor, Marita Kelly, +001 667 312 3532, mkelly@internationalliving.com
Twitter: @inliving
Facebook: https://www.facebook.com/International.Living/
About International Living
Since 1979, InternationalLiving.com has been the leading authority for anyone looking for global retirement or relocation opportunities. Through its monthly magazine and related e-letters, extensive website, podcasts, online bookstore, and events held around the world, InternationalLiving.com provides information and services to help its readers live better, travel farther, have more fun, save more money, and find better business opportunities when they expand their world beyond their own shores. InternationalLiving.com has contributors traveling the globe, investigating the best opportunities for travel, retirement, real estate, and investment.