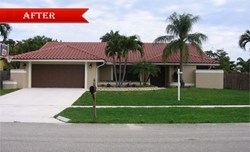 The commission fees are one thing that is different with an investor sale compared with a straight realtor sale
Delray Beach, Florida (PRWEB) August 10, 2013
Real estate agents who agree to list a property for sale can often wait weeks months or in some cases years before a property reaches the right buyer. Homeowners requiring a faster method of sale can now take advantage of the real estate investment company in Delray Beach now offering to buy homes for market value at
http://rescuerealestatellc.com/we-buy-houses.
The HowtoMarketHouses.com company has profiled the Rescue Real Estate, LLC company and discovered this company is now buying homes outright.
"There is no longer a waiting period from the listing period to the closing using experienced investors," said Ryan Bush, owner of the How to Market Houses company. Homeowners can have more than one reason to sell a home faster than a standard real estate listing would provide.
The offers that are now submitted direct to owners of homes by the Rescue Real Estate, LLC company are designed to eliminate the frustration that can come along with entering into a realtor agreement for selling assistance.
"The commission fees are one thing that is different with an investor sale compared with a straight realtor sale," Bush added. The increasingly high commission ratios that are now charged by some Florida real estate companies could easily added thousands of dollars to the cost of closing on a home sale.
According to the review by the HowtoMarketHouses.com company, the offers that are being submitted to Delray Beach Florida homeowners are in line with current market rates. An internal buying team of specialists works with the Rescue Real Estate, LLC company to handle all transactions for purchasing for sale by owner homes.
A homeowner interested in completing a sale at a faster pace compared with what realtors can offer can review the online application forms that are offered on the http://rescuerealestatellc.com website. These secure forms start the sale process that can move quickly towards a closing with an attorney.
About Rescue Real Estate, LLC
The Rescue Real Estate, LLC company is a partnership that includes housing experts in the Palm Beach County area of Florida. This company sells its portfolio of homes for fair market prices and helps homeowners sell homes faster than standard real estate agents.
About HowtoMarketHouses.com
The HowtoMarketHouses.com company instructs professionals and beginners in the real estate industry how to market any property online. This company was one of the first to develop an online series of training modules to expand SEO marketing for real estate.