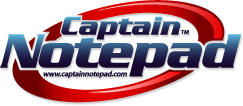 Personalized notepads aren't just for businesses. It's the one item, besides pens, that are always a staple in any home.
Englewood, CO (PRWEB) June 06, 2017
Captain Notepad (http://www.captainnotepad.com), a producer of image personalized calendars, custom notepads, magnetic notepads, and other promotional items, today announced it is a wholesaler to Etsy retailers. Along with being a wholesaler of customized notepads to Etsy, Captain Notepad is also getting ready for summer with new summer promotions.
Captain Notepad has become a wholesaler for personalized notepads for select retailers. Captain Notepad offers its retailers high quality personalized notepads at an affordable price. "Etsy retailers love our personalized notepads that can be customized with their clients name on each page of the notepad. Retailers can choose from an array of styles, sizes, and designs," notes Jace Rogat, President at Captain Notepad. He continues, "Personalized notepads aren't just for businesses. It's the one item, besides pens, that are always a staple in any home."
Retailers can purchase custom printed notepads from Captain Notepad. All orders can be customized using variable data. Retailers will need to send in a list of their client's names, choose the design, and choose quantity. Captain Notepad offers quick turnaround and affordable prices. "If you're an Etsy retailer looking to personalize notepads for your clients, contact us today to learn more," says Jace at Captain Notepad.
Starting Memorial Day weekend, Captain Notepad will be offering their SUMMER SPECIAL on all customized notepads. "The summer is a perfect time to stock up on your real estate promotional items and customized notepads. With the busy season on its way for retailers, don't be caught without a great promotional leave behind, like our magnetic list pads," says Jace Rogat at Captain Notepad. For a limited time, use promo code SUMMER17 at checkout to receive 15% off select notepads.
For a limited time, when you order one of the Patriotic Custom Notepads from Captain Notepad, you will receive 15% off your order. Enter SUMMER17 during checkout to receive the discount. To see a full list of Custom Notepad Patriotic themed notepads click here, and enter SUMMER17 at checkout.
About Captain Notepad (https://www.captainnotepad.com)
Captain Notepad is the leading manufacturer of customized notepads and promotional items specializing in creative solutions to help brand a company's product and grow their business. Through competitive prices and great customer service, Captain Notepad has become the best source for custom notepads. What sets Captain Notepad apart is the short production time including rush production on most of the custom printed notepads.