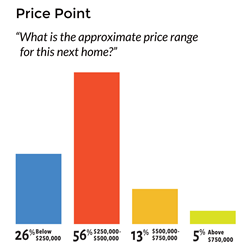 Vero Beach, FL (PRWEB) August 23, 2017
A survey conducted by PrivateCommunities.com yields evidence demonstrating baby boomers are willing to spend more on homes than reported in 2014. Of those surveyed, 74% indicate price points from a quarter of a million dollars and higher – an increase of almost 10% compared to 2014's survey results.
Topics shoppers weighed in on include: purchase history, intention of buying, urgency to purchase, price point, plans for home usage, desired community amenities, and if they visited a master-planned community before buying. Among the notable results:

79% plan to buy a home within a master-planned community.
75% plan to buy a home in a master-planned community within one to two years.
84% are looking for a primary residence within a master-planned community.
Respondents mostly desire fitness-related amenities; fitness centers, walking and biking trails, and swimming pools were the top three requested amenities.
According to data from Claritas PRIZM demographic segmentation, the majority of survey respondents are baby boomers among the most affluent social groups in the United States.
"These results are an indication that post-recession consumer confidence continues to climb in the market of master-planned lifestyle communities and our primary audience of baby boomers," said Ben Keal, Director of Sales for PrivateCommunities.com. "The market value of homes has increased, but that's not stopping baby boomers from searching for their ideal lifestyle."
PrivateCommunities.com gathered responses from over 40,000 home shoppers who requested information from a cross section of master-planned communities represented on the PrivateCommunities.com website between January 1, 2014 and December 31, 2016. The voluntary (uncompensated) response rate was 5%.
For more information about the survey results, click here.
About PrivateCommunities.com
Established in 1996, PrivateCommunities.com is a comprehensive research and information site for consumers seeking primary, retirement, or second homes in master-planned communities. Communities profiled offer a variety of amenities from golf to fitness, boating, tennis, and equestrian facilities, with property listed from less than $100,000 to over $10 million.