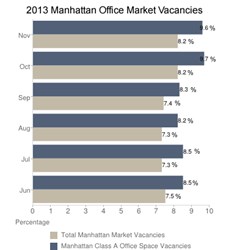 Madison Avenue retail rents reach record high with the Hermes lease at 691 Madison at $1,700/SF and pending leases at 680 Madison Avenue for $2,200/ SF.
New York, NY (PRWEB) November 13, 2013
Optimal Spaces, Inc. has just released their November 2013 Office, Retail and Industrial Market Report for Manhattan. The report gives the reader, both novice and experienced professionals, an overview of the Manhattan commercial Office Retail and Industrial real estate market trends. The report includes a list of new building developments, major office and retail leases as well as building sales in New York City. There is also a detailed analysis with graphs that show market trends for each subsector of office Class A and Class B and broken down into Midtown, Midtown South and downtown. Retail spaces are also broken down to Midtown, Midtown South and Downtown in Manhattan.
To view summaries and access the reports, please click on the following links:

For the latest market research on New York City commercial real estate, please contact Stephen Sunderland at Optimal Spaces. Optimal Spaces releases a monthly analysis of the Manhattan market, including detailed statistics and graphs.
About Optimal Spaces:
Optimal Spaces is an industry leader Tenant Representative Brokerage firm specializing in Manhattan office, retail and industrial real estate markets in New York City. We solely represent our client's interests, unlike other New York City brokerage firms whose legal duty is to represent landlords. Optimal Spaces offers strategic advice and execution for commercial property sales and leasing, corporate brokerage, market research and consulting. Optimal Space's brokers are all experienced professionals, each with a minimum of ten years experience in the fields of retail, office, industrial for both leasing and buying. For more information about Optimal Spaces can be found by accessing its website at http://www.optimalspaces.com. Client testimonials can be found at http://www.optimalspaces.com/testimonials.html.