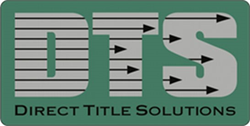 This ALTA Best Practices Certification reflects our steadfast commitment to the industry, our brand, and most importantly, our customers.
Winchester, VA (PRWEB) April 05, 2016
Bryan L. Marion, president of Winchester-based Direct Title Solutions, lnc., proudly announces the company has achieved a third-party certification, demonstrating compliance with the American Land Title Association's (ALTA) Best Practices Framework, the highest assurance of quality in the real estate settlement industry. "This certification demonstrates Direct Title Solutions, Inc. is committed to providing superior title services and has internal procedures and policies in place to protect both creditors and consumers, ensuring positive and compliant real estate closing experiences," Marion said.
Recent regulations hold creditors liable for any deficiencies in a title company's protection of consumer information. As a result, creditors are reviewing their relationships with service providers and becoming more sensitive to the types of companies with which they do business. To help creditors, ALTA created the Best Practices Framework to assist title and settlement agents prepare policies and to protect creditors and consumers.
Increasingly, title companies are electing to obtain certification in order to stay competitive and compliant in the market place, and Direct Title Solutions, Inc. opted for the highest level of certification: an on-site examination by an independent third party, which is considered the gold standard in the industry. Direct Title Solutions, Inc. contracted with the nationally recognized certified public accounting and consulting firm PYA (Pershing Yoakley & Associates), ALTA's first Elite Provider of Best Practices Services, to perform the third-party assessment and certification. PYA reviewed Direct Title Solutions, Inc.'s ALTA Best Practices and tested all its procedures and protocols.
"Direct Title Solutions made the decision to invest in this third-party process in order to reinforce our sound business practices and our long-standing commitment to being a trusted real estate settlement partner," said Marion. "We chose PYA to perform our third-party ALTA Best Practices Certification because of their knowledge of the title industry and their experience with Best Practices Certifications. During our certification process, PYA displayed a high level of professionalism and customer service. The on-site testing was thorough and detailed, which provides us a high level of comfort with day-to-day operations. Few title companies choose to spend the money or resources required to obtain certification. Direct Title Solutions, Inc. believes protecting its customer information is worth the investment of time and resources in order to enhance its policies and systems. We are very committed to our customers and want to provide the highest level of assurance to creditors so all transactions can be securely placed with confidence at our business."
Achieving ALTA compliance meant investing in technology and security upgrades as well as ongoing employee training. "This ALTA Best Practices Certification reflects our steadfast commitment to the industry, our brand, and most importantly, our customers," Marion said, adding, "It also complements our robust growth over the last few years. It will further solidify current relationships and open doors to many others."
About Direct Title Solutions, Inc.: Direct Title Solutions, Inc. is a provider of real estate settlement services, both commercial and residential. DTS is a multi-faceted title company providing a wide range of services – including title abstract and recording services – in Florida, Maryland, New Jersey, and Virginia, along with title insurance and full-scale real estate closing services in Maryland, Virginia, and West Virginia. DTS employees receive ongoing training, and technology and infrastructure are constantly upgraded in order to provide outstanding security and protection for creditors and consumers.
Inc. Magazine has recognized Direct Title Solutions, Inc. as one of America's 5,000 fastest-growing privately held companies, and the Virginia Chamber of Commerce named it one of Virginia's 50 fastest-growing companies. Direct Title Solutions, Inc., Bryan L. Marion, president, is located at 12 N. Braddock St., Winchester, VA 22601. Contact (540) 450-0740, bmarion(at)DTSAdvantage(dot)com or visit http://www.DTSAdvantage.com.
About PYA: For more than three decades, PYA (Pershing Yoakley & Associates), a national professional services firm providing management consulting and accounting, has helped its clients navigate and derive value amid complex challenges. In addition to serving the healthcare and financial institutions industries, PYA serves the title industry with a comprehensive list of offerings, including ALTA Best Practices implementation and assessment strategic planning; mergers and acquisitions; tax compliance; and regulatory compliance. PYA's steadfast commitment to an unwavering client-centric culture has served the firm's clients well. PYA is ranked 103rd by INSIDE Public Accounting's "Top 200" Largest Accounting Firms. PYA-affiliate companies offer clients world-class data analytics, professional real estate development and advisory resources, comprehensive claims audits for self-insured Fortune 5OO companies, wealth management and retirement plan administration, and business transitions consulting. PYA is headquartered in Knoxville, Tenn. Visit http://www.pyabestpractices.com or call (800) 270-9629.
About ALTA: The American Land Title Association (ALTA), founded in 1907, is the national trade association representing 6,000 title insurance companies, title and settlement agents, independent abstractors, title searchers, and real estate attorneys; its members search, review, and insure land titles to protect consumers and mortgage lenders. For questions regarding the certification process, visit the ALTA website at http://www.alta.org/bestpractices.