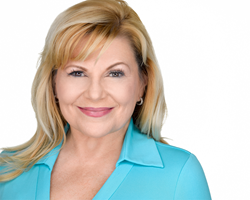 The market is changing and brick and mortar brokerages are a thing of the past.
NEW YORK (PRWEB) February 21, 2019
Real announced today that Real Estate Broker Dory Gordon is joining the technology-powered brokerage as a regional growth lead in Houston. In her role, Gordon will bring her expertise in recruiting and leadership to help Texas agents who are looking for a new model of brokerage.
"The market is changing and brick and mortar brokerages are a thing of the past," Gordon says. "What's not changing is that this is still a business of relationships. Real understands both of these things, and that is why I want to work with them."
Gordon brings to Real an impressive resume honed over twenty years of working in the real estate industry. After 11 successful years working as a real estate agent and investor in Florida, Gordon earned her broker's license and returned to her home state of Texas. She managed and grew Century 21 and Coldwell Banker United offices in the Houston area, ultimately taking over a Century 21 office as a broker and owner and growing it to 170 agents.
Gordon attributes her leadership success to teaching her agents to be client-focused and embracing change. After selling her brokerage, Gordon says she chose to join Real because she sees their tech-first model as emblematic of a larger shift in the real estate industry.
"In Dory we saw an extremely accomplished real estate professional who has the knowledge and passion we need to grow the Real brand in the state of Texas," said Tamir Poleg, co-founder and CEO of Real. "We think Gordon is a natural fit for our business and we are excited to have her join the team."
For agents considering Real, Gordon has a pitch:
"Our value proposition is agent-centric and streamlined, making it easy for you to make money," Gordon says. "If you want your job to be easier, if you want collaboration, and if you want to be part of the future, join Real."
Houston-area real estate agents interested in meeting with Dory Gordon and Real CEO Tamir poleg are invite to a Career & Networking Event today at 10 am CST at the Galleria and 5 pm CST in Cypress. Reserve tickets here: http://bit.ly/Houston-Agent-Brunch.
About Real
Real is the first tech-connected real estate brokerage that leverages mobile technology in place of costly brick and mortar to serve its agents. By marrying a tech-connected business model with agent equity opportunities and revenue sharing, Real seeks to make agents' lives better. For more information, please visit http://www.joinreal.com. Texas agents, please visit https://texas.joinreal.com/.